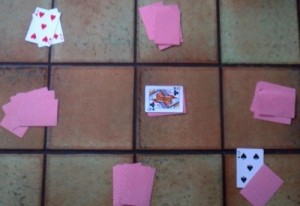 Last fall we learned euchre, the card game.  After that first evening I loved it so much that I had grandiose plans for family euchre parties and added playing cards to our shopping list.
Why?  Well it's fun, for one, but that's not the only reason I loved it so much.
Another reason is because of the way I was taught.  It's many years since someone has taught me a skill—which is completely different from being taught knowledge—and I had forgotten what it is like to be at the receiving end of such teaching.
Our friend, a very experienced euchre player, turned out to be an excellent teacher.  He answered questions clearly and gave reasons for his answers.  Best of all, he gave feedback that was specific, content-filled, and encouraging.
Like this:
"That was a good card to put down because of this and this…."
Or, after I made a decision that turned out badly:  "That's OK.  It's good to make a decision, any decision; lots of people freeze and don't dare, but it's good to be brave.  That means you have a strategy for putting your cards down.  It means you are learning and thinking about the game."
Or, "Doing that will help…."
That evening I learned euchre, but I also had the experience of being taught by a talented teacher.  For me as a homeschool mom, the latter was invaluable.
In fact, at first I wished I could remember some of our friend's exact words, because they would be so helpful to me as I teach my kids (and, of course, as I play euchre).  The thing is, using my own words when teaching my children will work best, and each learning situation is different.
But there are some general principles he used.  And, of course, I did know them, but I had no idea what it felt like to be on the receiving end of such teaching.  Here are the lessons I learned about teaching that evening:  It really helps if the teacher
Answers questions clearly, and gives reasons for the answers.
Ties the encouragement to specific accomplishments.
Spells out what the accomplishments were and what the learner did to get there.
Respects the learner's efforts.
Finds something positive in failures and turns them into a learning experience, too.
Has fun.
Now, five months later, everyone in our family can play euchre and we do so often.  It has added a new dimension to sitting together in front of the fireplace and has given us much joy.
We're also now at a stage where I need to revamp our homeschool, and what I learned about teaching that evening will make all the difference.  Now that I've been a student again, I hope to become a better teacher.