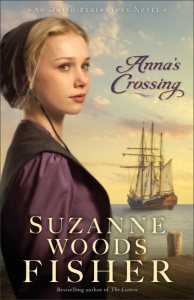 It was 1737 and life in Germany was becoming too dangerous for the Amish.  They were going to travel to the new world; surely that would solve their problems.
Anna Konig, however, did not think so.  She saw no reason to leave her grandparents, her sheep, and the village she loved so much.  Yet she had to go, the minister insisted, because no one else spoke English.
And so, the morning after a terrible tragedy, the families started their journey, first down the Rhine, then to England and then, through storm and thirst and danger, across the Atlantic to America.
Anna and her beloved rose bush lived in the stench below deck, but as translator—and later as healer—she was welcome on deck too, with the sailors and the kind yet disturbing Bairn.  Young Felix, her charge and a mischievous handful whose mother was suffering from grief too great to be borne, also loved to be on deck, helping Bairn….
As usual, Suzanne Woods Fisher has woven a tangled and very satisfying plot, this one based on the first Amish ocean crossing.  Anna is a splendid character and both Bairn and young Felix are true to life as well.  Although Anna is the main character, the story of Dorothea, Felix's mother, drives the plot.  I did not realize this at first, and it is so satisfying to read a Christian novel that is well-written and complex.
The author presented God's love in a completely natural way, and at one point Anna suddenly understood Psalm 91, that even in the midst of great gales they could know peace. Many in this novel faced gales of tragedy and despair, and in the end they did find God's peace.
If you are looking for an encouraging and absorbing novel and enjoy historical fiction, you will love Anna's Crossing.
—
This is yet another book in the in the 2015 52 Books in 52 Weeks Challenge and is also linked to Saturday Reviews, Booknificent Thursdays, Literacy Musings Monday, and The Book Nook. 
Disclosure: This book has been provided courtesy of Baker Publishing Group and Graf-Martin Communications, Inc. and is available at your favourite bookseller from Revell, a division of Baker Publishing Group.