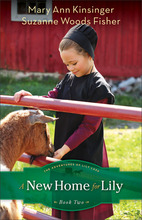 Lily Lapp has moved to Pennsylvania, to a new Amish community.  So much is different:  the kitchen with its orange counters, the school girls, the church, her little bed in the hall.  The house is ugly; the ideas are different; and Lily longs for her old life in New York.
But it gets better.  Father unexpectedly buys goats.  Lily makes gallons of grey jello for Grandma's birthday.  Cousin Hannah moves from Pennsylvania.  Spring arrives.
As Lily wonders about friends and the church and little brothers, everyday life continues and we get to experience it with her.  We learn to love Beth and to dread Effie's nastiness. We try to remember that Aaron is invisible to Lily…yet it turns out that she is the one who saves him.  We watch the English neighbor plow the new strawberry field, and when he leaves the tractor overnight, we climb in.  We give up a beautiful new doll to honor Grandma, and pinch off hundred and millions of strawberry flowers.  Gradually, we, with Lily, learn to accept life in Pennsylvania.
Obviously, Lily's family is Christian but this is a background certainty that is not preached about or fussed over; it is simply accepted and lived.  That is what makes this book so powerful even though it seems very simple.
Full of authentic vignettes of Amish country life, A New Home for Lily is a sweet, funny book. It is highly recommended for children ages 8 to 12.   As a bonus, it appeals to mothers, too, and would make be a great read aloud.
This post is linked to Encourage One Another Wednesday, Raising Homemakers, Be Inspired by Others, Hearts for Home, Kid Lit Blog Hop, and Saturday Reviews.
Disclosure: This book has been provided courtesy of Baker Publishing Group and Graf-Martin Communications, Inc. and is available at your favorite bookseller from Revell, a division of Baker Publishing Group.