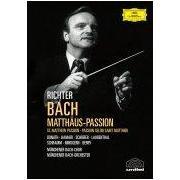 Easter is approaching, and it is good to focus on our Lord's death and resurrection.   When we lived in the Netherlands, one Easter tradition some of our friends had was attending the St. Matthew Passion.  Others sang in it.  Now people all around the world can watch it online.
Centuries ago, J. S. Bach wrote this incredible work, the St. Matthew Passion, (or listen to a more lively performance here) to tell the story of Christ's death, making it both real and relevant to the listeners.  Using words directly from the gospel of Matthew as well as German hymns and devotional lyrics, Bach wove together an amazing three hour musical devotional.  No wonder some call him the fifth evangelist, after Matthew, Mark, Luke, and John!
You can listen to and watch this old but beautiful performance of the St. Matthew Passion conducted by Karl Richter, free, online.  The singing is, obviously, in German, but this video has subtitles.  Or you can download the lyrics in German and English, both for Part 1, meant to be performed before the Good Friday sermon, and Part 2, to be performed after it.
As Bach would say, "Soli Deo Gloria,"  to God alone be the glory.
Not only is this a devotional piece of music; it is also one of the greatest musical works ever written and as such deserves a place in the classical homeschool.  The St. Matthew Passion is studied in the Omnibus Curriculum.
Note:  This DVD is currently available from ArkivMusic.
Addition:  Just this afternoon someone sent me the following, and this recording is also wonderful:
In  honor of Helmuth Rilling's 44 years as artistic director, the Oregon Bach  Festival offers a new website on the St. Matthew Passion. It is best viewed on  full screen  (or on laptop ).  The website offers the  libretto in fifteen languages. Adobe Flash is required.
Throughout his 44  years as master teacher, conductor, and artistic director of the Oregon Bach  Festival, Helmuth Rilling has demonstrated a deep respect for Bach's liturgical  music as the public enactment of a particular community's beliefs and its  commitments. In this performance by the Gächinger Kantorei and the  Bach-Collegium Stuttgart (courtesy of Hänssler Classic), he guides us through  the narrative of the last 24 hours of Jesus' life as recorded by the Evangelist,  St. Matthew. It is an inspiring and moving experience, with important lessons  for all people.
Soloists include Michael Schade (Evangelist), Christiane  Oelze, Ingeborg Danz, Matthias Goerne, and Thomas Quasthoff.
Partners in  the Digitalbach Project include the Hinkle Charitable Foundation, the Oregon  Bach Festival, Hänssler Classic, and Northern Arizona  University.
Disclosure:  As usual, I am not compensated for this post.
This post is linked to Encourage One Another Wednesday, Raising Homemakers, and Trivium Tuesdays.