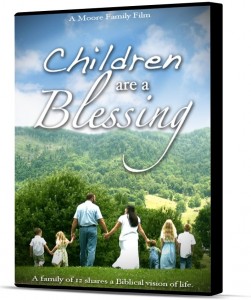 Children are a blessing.  That fundamental understanding permeates the entire Bible.   
A different message permeates our culture: children are an indulgence, an experience, a hobby.  Ultimately they are a burden, getting in the way of finances, careers, fitness, and convenience. 
And often, Christians have been deceived as well.  Children are a Blessing, a half-hour documentary, aims to show Christians the truth.  Watch it free online this month. 
Watching this family-friendly film you'll learn
about some of the negative statements of those promoting birth control and abortion,
what the Bible teaches,
the story of the Moore family's 10th baby, and
that God takes care of the children he provides.
Disclosure I am not compensated in any way for sharing this information with you.
Thanks to Kimberly for posting about this.
–For more inspiration, see No Ordinary Blog Hop, Encourage One Another Wednesday, Women Living Well Wednesdays, Works For Me Wednesday , and Raising Homemakers.