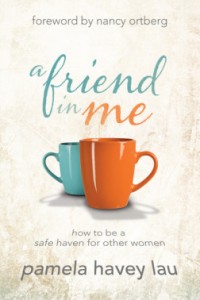 There are so many lonely people in the world.  One of them may even be you.
Some say loneliness is an inevitable part of living in a sin-drenched world, and there is a measure of truth in that.  On the other hand, Christians should be there for the lonely, for those who are struggling and need someone to hear their hearts.  This should be especially true in the church where no one should be living 'uncomforted under the pressure of sickness, loneliness, and poverty,'  and ideally we would have time and energy to reach out to everyone around us.
Of course that is easy to say, but doing so wisely and well is a different matter. It involves everything from being careful about our use of time to learning how to love others.  Fundamentally, it involves learning how to be a safe place for others, and this is what Pamela Havey Lau writes about in her book A Friend in Me:  how to be a safe haven for other women.
To be a safe haven for others, we need to love them with the love with which Christ has loved us; we need to comfort them with the comfort God has given us; and above all we need to trust God's power and goodness in our relationships and not have our own agenda for them.
Over and over, Pamela emphasizes how other women need to be listened to and to experience God's love in and through us.  They need someone to connect with. Yes, they also need to be reminded of God's Word and of how he wants us to live, but if they are in distress they won't be able to listen until they are loved and comforted.  This involves setting aside our agendas for them and just listening to the cry of their hearts.  Yes, they may be sinning, Pamela says, but before we teach or remind them about God's commands, we first need to show them his love.
The above process sounds all jumbled up, doesn't it?  We want to offer advice to stop sinning.  We want to help others in the way that they can best be helped, by pointing them to God.  But that is not the way the hungry and hurting human heart seems to work.  Love does indeed seem to come first—as we should have been able to figure out ourselves from the Bible.  For if other women do not know, deeply, how much you care for them, they will not even begin to listen to your advice.
In this context, Pamela deals with pain and suffering, comforting, being understanding, forgiving, showing compassion, discussing sex, building friendships, and loving others.  Wisely she points to the fact that our interactions with others depend on our relationship with God, our obedience to his Word, and our own life history.  She shares her own story of abandonment and loss as well as the stories of others, and constantly points to God's goodness and power in all things.  She also shares practical tips and discussion points to help women reach out to others.
Above all, Pamela emphasizes that we need to focus on keeping our own hearts clean of bitterness, anger, and self-pity; this emphasis makes sense given her life story. While we all need to do so, some of us may need to concentrate more on cleansing our hearts from different sins and emotions.  For, unless we obey God's commands about our own attitudes, we will not be able to share his love and comfort openly with others.
At first I thought Pamela focuses too much on connecting and not enough on applying God's Word in difficult situations, but as I read more of the book it became obvious that the balance between connecting and correcting is a very delicate one that depends strongly on circumstances and relationships.  The key is not to let our own agenda take over but to pray and to trust in God's wisdom.  We cannot change hearts, after all; that is God's business.  Ultimately ours is to show his love in Jesus Christ which that is only possible if we abide in Jesus.
Although I did not agree with everything in A Friend in Me, God sent it into my life at a time when I needed to learn more about connecting with people.  To me it was a powerful book in many ways, filled with insights that I was finally ready to hear.  I needed to learn how to show love.  I needed to learn when giving correction and advice is appropriate and when it is counterproductive.  I needed to be reminded that I can do nothing helpful at all unless I find my strength in my Lord, Jesus.
I pray that this book will do much to turn us all to God as we learn to love each other more fully.
—
You can read more reviews of this book at the LitFuse website. Crystal Paine's thoughts on friendship , based on the book Safe People which I have not yet read, seems to have more of an emphasis on self-protection than on giving to others.  Because this is a broken world, both are obviously necessary and Pamela does mention boundaries in A Friend in Me.
Currently my comment form is not working (my techie son and I have not been able to resolve this yet), but you can comment on Google+ instead or at GoodReads.  Thank you for your patience.
—
This is yet another book in the in the 2015 52 Books in 52 Weeks Challenge and is also linked to Saturday Reviews, Booknificent Thursdays, Literacy Musings Monday, and The Book Nook.
For more encouragement, visit Raising Homemakers, Titus 2 Tuesday, R&R Wednesdays, and Trivium Tuesdays.
Disclosure: I received a copy of this book from Litfuse for the purpose of this review.  All my opinions are my own, and I am not compensated for sharing them.