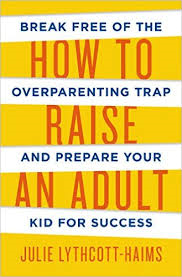 How to Raise an Adult: Break Free of the Overparenting Trap and Prepare Your Kids for Success is one of the very popular books in our public library, currently with a waiting list of over 52 people even though there are 20 copies.
Why?
Well, it seems that parenting in North America fails in two opposing ways: on the one hand, children are neglected, and on the other hand they are overparented…and often these problems go hand in hand. This unique combination, based on parents' crazy schedules on the one hand and on their dreams for their children on the other hand, leads to young adults who are helpless, unhappy, stressed, and sometimes even broken. The neglect is often on an emotional and relational level, and the overparenting often has to do with education and resume building.  How to Raise an Adult focuses on the overparenting, and, while it does not explicitly note the neglect, it does mention it in various contexts throughout the book.
I would suggest that, though homeschooling, too, can lead to these parenting problems, most homeschoolers excel in both ways: the children are paid attention to, but are also allowed a lot of freedom to make their own mistakes, dream their own dreams, and chart their own educational direction.
…
Most importantly, something that was not mentioned in this book at all, our children need us to live alongside them and talk about God's Word with them when we are at home and when we are out, in the evenings and in the mornings. We need to build in all sorts of ways to remember his Word for ourselves so that we can impress it on them. When we do these things, both neglect and overparenting will fall by the wayside because we parents will have biblical goals for ourselves, our families, and our children.
You can read my complete article over at the Curriculum Choice.
—
Disclosure:  I borrowed this book from our library and have given my own honest opinions.  I am not compensated for this review.