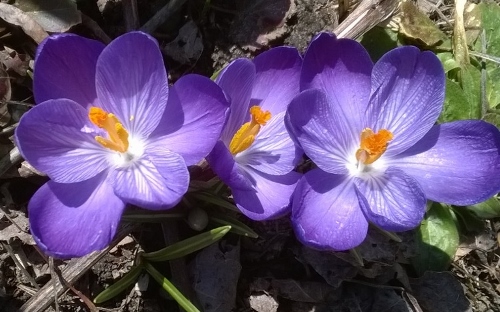 One of our duties as homeschooling parents is to teach our children the knowledge base common to our culture to equip them to participate effectively in its conversations.  In Part 1 of Homeschooling Methods and Content Based Learning, I discussed this concept, what it means in everyday life, and how homeschooling methods can affect how well we achieve this goal.  With this in mind I outlined advantages and disadvantages of two of the four broad approaches to homeschooling, namely using a complete purchased curriculum and following curriculum outlines such as Ambleside Online or The Well Trained Mind.
Now, in the second part of this article, I look at the other two broad styles of homeschooling (eclectic homeschooling and unschooling/delight-directed learning), and also discuss our personal experience and discoveries.
—
Another option is to use an outline as part of our curriculum and fill in the rest from an eclectic mix of prepared curricula, delight-directed learning, outside classes, and co-operative learning.  Hirsch's series What Your … Grader Needs to Know is useful for this, and the various outlines mentioned above are can also be used.
Advantages:  This method is extremely flexible and can meet varying needs of students and families quite well.  It allows homeschoolers to add material from their own culture more easily.  In the subjects in which official curricula are used, formal grades are easy to assign.
Disadvantages:  It is easy to miss important topics, and this method requires many decisions from year to year and throughout the year.  Also, there is the problem of parents needing to know about various topics or be willing to learn with their children, and in high school very few parents can keep ahead far enough to really benefit their children.  In many subjects, formal grades are difficult to assign.
Finally, a family can opt for unschooling or delight-directed learning, in which the student decides much of what is learned.  Many families do this to some extent along with their other methods of homeschooling, but some choose it as their exclusive way of learning.
Advantages: This can work very well if the parents expose their children to a wide array of concepts and activities and are aware of skills and content goals at different levels.  Children and teens who follow their own interests learn phenomenally well and master both skills and information almost effortlessly.  They regularly soar past their parents in their areas of interest, learning on their own at a very high level. They also learn how to learn and how to find resources to help them pursue their interests.
Disadvantages:  It is very easy to become unbalanced unless the parents have a list of goals in the backs of their minds and can use the students' interests to address such other necessary goals.  With more than a few children, this mindset can become too exhausting for many parents.  Thus this method often produces stellar learning in a few areas and relative ignorance in others.  Formal grades are almost impossible to assign, but a portfolio of learning and achievement is often impressive and relatively easy to assemble.
What does our family do?  We mix various elements in an eclectic style, with a focus on the content of Classical Education and the methodology of Charlotte Mason, and with as much of the student's input as possible.  Each child is different.  Some want textbooks, and some subjects, like high school science and math, almost require textbooks; others just want to do real world activities.  And each stage of development of each child is different, so our focus changes from year to year.  There have been gaps, but I work very hard to ensure that each child has a rigorous foundation in the major subjects and skills as well as ample opportunity to follow his or her own interests.
How has this worked in our family?  The content that really sticks has usually come from self-initiated learning, but the sparks for that have often come from ideas or suggestions from our outlines and curricula, as well as from other people, volunteering, and other outside sources.  Three of our children, currently in university, have very broad interests, knowledge, and skills that give them both confidence and a solid base for further learning.  The younger children, who have more access to screens, are not doing as well academically.
Here are some lessons we have learned about content rich education:
—Stories are one of the most powerful ways of learning, and the best stories have been collected into the world's great literature.  However, most parents need help discussing this insightfully with their children.  That is one of the reasons we purchased the expensive Omnibus high school program from Veritas Press; it provides information and guidelines to help me guide my teens in their classical learning even though we rarely use the curriculum itself as intended.
—Narration is a very effective way for children to process information, and it enhances learning.
—Some skill-based subjects, such as math, foreign languages, and music, require a lot of practice and effort for mastery.  Delight-directed learning often needs a serious push here.
—There is no need to teach your child boring material, for the world is full of fascinating information on every topic.
—The Bible is fundamental, not only to faith, but also to an understanding of Western culture.  It is among the most important content any homeschooling family, Christian or non-Christian, can teach their children if they desire a classical education.
—Any child who spends a significant amount of time engaged in mindless media will suffer academically.
—If a child shows an interest in a topic, encourage that interest and provide resources and opportunities.
—Illness can be a time of learning if you are not focussed on a year by year curriculum but instead use a more eclectic style, choosing topics and methods that work for your child at that time.  For example, one of our teens spent many months reading in bed while recovering from severe pneumonia, and this benefited her in many ways.
—Switching between methods often means that a child will be missing some assumed knowledge and will repeat other topics.  This is something to remember before deciding to switch and will require extra work on the part of parents, but sometimes it is necessary.
— "Any method will work if the teacher does." This thought from Ruth Beechick is probably true, but the reality is that sometimes a homeschooling mom cannot put in any more time or effort; then it is important to choose the method more carefully even though the initial switch may require extra work for a time.
—There is nothing like leaving some good books lying around, if your children are readers.
Do our children have an education without gaps?  No.  Do they have a better basis than most other young people?  Certainly, and this is evident in university and in their interactions in society.  This seems to be because they know the Bible, the basics of history,  science, and nature study, and much about the current world, and because they are interested in many things.  Not surprisingly, many other homeschooled students have received a similar advantage from their years at home.
So, dear homeschooling mom, be strong and of good courage! Keep on ensuring that your children receive a quality education–in all senses of those words–to God's glory.  May God bless our diligence and forgive us our mistakes and sins!
Now, these are just my thoughts and suggestions.  What do you do to make sure your children are well-educated?
—
For more homeschooling encouragement see Raising Homemakers, Titus 2 Tuesday, Tell it to Me Tuesday, Finishing Strong, and Trivium Tuesdays.
Disclosure: Although I mention several resources in this discussion, I am not compensated for doing so nor do I endorse all of them wholeheartedly.