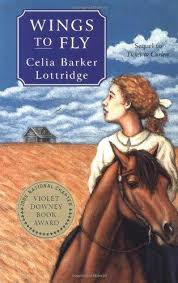 Much non-Christian fiction, especially award-winning fiction, has an edge to it.  Even when I read books for children I am tense, waiting for something really bad to happen, some twist of darkness or angst or evil.
These two award-winning books by Celia Barker Lottridge, however, are refreshing fun and give a sympathetic look at immigration to Alberta in the early twentieth century.  Although the author does not avoid difficult issues, she treats them with matter-of-fact compassion and hope.
In Ticket to Curlew, Sam Ferrier and his father moved to the Alberta prairie to build a homestead before his mother and younger siblings arrived from Iowa.  The land seemed endlessly flat but in his wanderings, always keeping the tiny house in sight and feeling even tinier, Sam discovered surprises from the past.  He was also relentlessly busy in the present with school, his new friend, and his horse Prince.
This is a fact-based story of a good boy and his good family, learning to love the Alberta prairie and their new neighbors.  It is satisfying, enjoyable, and hard to put down.  I highly recommend it for young teens and preteens to accompany Canadian history studies, and also a gentle read for older teens and adults interested in history or needing a soothing break from everyday life.
Like Ticket to Curlew, Wings to Fly is based on Celia Barker Lottridge's family stories.
Josie Ferrier, Sam's sister, meets a new girl, straight from England, whose mother hates the prairies.  Margaret and Josie ride to school together, but much happens before their friendship blossoms—the great influenza epidemic, a mysterious stranger who cleans the abandoned house the girls both love, and an elegant tea party.
Without being angry or simplistic, Wings to Fly explores early twentieth century ideas about women, determination, courage, mindset, goals, and education.  Although the book occasionally seems to be more about the themes than the characters and plot, the story flows well and is full of both interest and humorous moments.
Wings to Fly, too, is hard to put down. Full of unexpected happenings, there are the constant questions: will Josie become a flier, will anyone die of influenza, what kind of a person is mother anyhow, will Margaret's mother ever learn to cope, and what is it that Josie will be determined about?
Although Wings to Fly is for slightly older readers, both preteens and younger teens will enjoy it and I recommend it.  Like Ticket to Curlew, it is a valuable addition to Canadian history reading and an enjoyable book in its own right as well.  However, Wings to Fly does not have the universal appeal of Ticket to Curlew.
—
Aside: When I looked up Celia Barker Lottridge, I discovered one possible reason for the courage, hope, kindness, and goodness displayed in her books—the author has also published volumes of Bible stories.  I plan to read two more of her children's books this summer, Home is Beyond the Mountains and The Wind Wagon.
—
These books form part of our multi-year, literature-based Canadian History course . This review may be linked to Finishing Strong , Trivium Tuesdays,  Saturday Reviews, Booknificent Thursdays, Literacy Musings Monday, and The Book Nook.
Disclosure: We borrowed the books from the library and I am not compensated for this review.