Now that it's well into apple season, I have been looking for this recipe again. It is a surprising one, full of intense flavor and satisfying crunch, and rich in an unusual way.  My mouth waters at the memory and we will be eating it again soon.  Our apples are small and bumpy this year–that may be because they are organic–but with a recipe like this that does not matter. I hope you and your family will enjoy it!
2-3 cups apples, thinly sliced and chopped
1-2 T lemon juice
¼ cup raisins
2 T cinnamon (yes, tablespoons)
½ t ground nutmeg
½ t ground ginger
2 T honey
Thoroughly mix apple, lemon juice, raisins, spices and honey and let sit for ½ an hour.
The original recipe put this into a nut-based pie crust, but we like it served in bowls with whipping cream, ice cream, or pudding.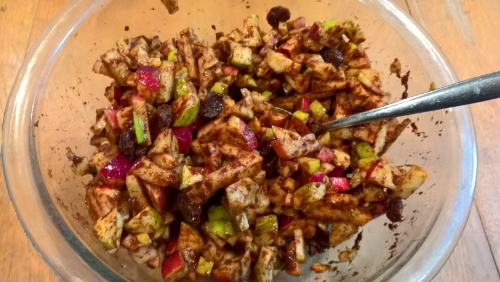 The recipe was adapted from Slimming Meals that Heal by Julie Daniluk. The author points out that if the apples are organic, you can enjoy the peels' health-giving benefits.  We find that the red and/or green peels also add a pretty color to the mix.
You might also enjoy Apples Breton Style, which is a quick and simple warm treat but contains far more sugar.
—
If you enjoyed this recipe, you might want to check out my other kitchen articles on cooking, preserving, and more.
This article may be linked to Raising Homemakers