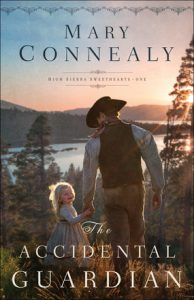 When Deborah Harkness and her sister Gwen took three-year-old Maddie and noisy little Ronnie for a bathroom trip early one morning, they little expected this simple duty would save their lives.  But while they were in the tall grass, a band of outlaws attacked their wagon train, killed everyone, and made off with the loot. The young women and their charges were left alive but alone, and it was almost winter.
On his way back to his ranch after selling cattle, Trace Riley noticed the smell of the burning wagon train.  Even though every fibre of his being wanted to follow the familiar outlaws and destroy them, he instead took the girls and children under his wing.
A wagon train in Nevada in 1867, criminals, an escape, and a rescuer….  Mary Connealy's Accidental Guardian promises to be a gripping story of life in the Sierras.  It delivers, too.  The main characters are realistic but idealized just enough, there is drama, romance, danger, and humor, and the plot has both predicable and unexpected elements.
Accidental Guardian was fun, silly, and exciting, and a pleasant refreshment.  I enjoyed it and wondered, as I often do about such stories, at the resiliency of its heroines who casually take terror in stride.  They expect trouble in life, as we all should, and as such they are great role models to counter the unrealistic expectations of many nowadays.  On the other hand, such novels usually set up very high expectations for men and a reader who devours them regularly may be setting herself up for disappointment in real life relationships.  As Elisabeth Eliot used to remind women, "You married a sinner (this idea would lead to excited nodding of heads) … and so did he."
Yet, as an occasional treat such novels are a wholesome and refreshing diversion, bringing joy, wonder, humor, and little bits of the gospel into our relaxing hours.  Accidental Guardian does all of this very well and I recommend it.  It also happens to be the first in a series, High Sierra Sweethearts, and I'm already guessing the plot of the next novel.
—
If you enjoyed this review, you might want to follow me on Google+, where I often mention helpful or interesting ideas, friend me on Facebook where I occasionally show up, or connect with me on GoodReads where I eventually share what I read. 
Disclosure: This book has been provided courtesy of Baker Publishing Group and Graf-Martin Communications, Inc. and is available at your favorite bookseller from Bethany House, a division of Baker Publishing Group.
This article may be linked to Saturday Reviews, Booknificent Thursdays, 52 Books in 52 Weeks Challenge, Literacy Musings Monday, and The Book Nook  as well as to Inspire Me Monday, Raising Homemakers, Friendship Friday, Make My Saturday Sweet.