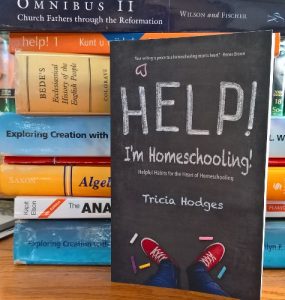 It is true that habits—good ones, that is—make homeschooling possible and even pleasant.  Charlotte Mason wrote about the importance of habits in education years ago. Recently James K. A. Smith claimed that virtue and character are habits internalized*, showing just how important they are.  Deep down, all of us know that smooth days run on the smooth rails of good habits.  However, homeschoolers have often struggled to understand how to make habits work for their families.
Now that is no longer necessary.   In Help! I'm Homeschooling!  Helpful Habits for the Heart of Homeschooling Tricia Hodges, veteran homeschooler of 5 and long-time homeschool encourager, has given a practical introduction to the habits of effective Christian homeschooling.
In her chatty and enthusiastic style, Tricia shares what works for her family, acknowledging that you need to choose the habits that will work for your own family.  A few times, however, she becomes insistent, like the wise mentor she is:
Your family needs some kind of habits to make homeschooling run smoothly.
Mamas need personal habits to homeschool well.
Prayer is the foundational habit.
You must spend time with your husband.
The three R's are basic, so treat them that way.
The extras are wonderful and you can include them without stress.
Everyone needs a rest break in the afternoon.
Again and again, Tricia points homeschooling moms to the Lord.  She shows how to make faith practical, explaining how habits of praise, prayer, and relying on God can be developed even in the overwhelming busyness of homeschooling.  This is truly the heart of Christian homeschooling, but we are so often tempted to rely on ourselves or our curriculum.
After over two decades of homeschooling, I was reminded of a few things that I had let slip over the years, so Help!  I'm Homeschooling! is benefitting our family, too.   Even in high school it is important to focus on the 3Rs—whatever that means for teens—while exploring other subjects.  I needed the reminders about goal-setting, celebration, and communication as well.
How I wish Help!  I'm Homeschooling! had been around 20 years ago! It would have made our lives so much easier and better.  I am convinced it will bless any homeschooling mom who reads it, especially those newer to homeschooling and also veterans like me.
—
Note:  Unfortunately, as in most self-published books, a few typos were missed.
*You Are What You Love:  The Spiritual Power of Habit by James K. A. Smith
Reviews of Related Books
A Homeschooler Thinks about The Power of Habit by Charles Duhigg
Better than Before by Gretchen Rubin
Bonding with Your Child Through Boundaries by Hunt and Wells
—
If you enjoyed this review, you might want to follow me on Google+, where I often mention helpful or interesting ideas, friend me on Facebook where I occasionally show up, or connect with me on GoodReads where I eventually share what I read. 
Disclosure: I received a review copy of this book from the author and have given my own honest opinion.
This may be linked to Saturday Reviews, Booknificent Thursdays, 52 Books in 52 Weeks Challenge, Literacy Musings Monday, and The Book Nook  as well as to Inspire Me Monday, Raising Homemakers, Friendship Friday, Make My Saturday Sweet.