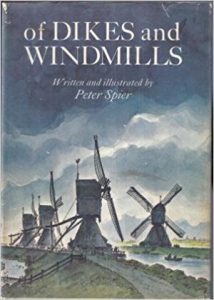 In the southern Netherlands many years ago, my father commuted to school on a little ferry.   He experienced the terrible flood of 1953. Eventually his family moved to one of the modern polders which had just been reclaimed from the sea.  His life, like that of many Dutch people, was defined by the sea.
In Of Dikes and Windmills, renowned author and illustrator Peter Spier tells the story of the Dutch and their fight against the sea. He begins with the Frisians (ancestors of our family) two millennia ago and the mounds they built, just a wee bit higher than the highest tide. The ancient Roman, Pliny the Elder, who died in the eruption of Vesuvius that covered Pompeii, wrote this about them:
Here a miserable people live on high hills or mounds that they have made and on which they have built their huts. They are like sailors when the tide is high and like castaways when the waters have again retreated.*
But things were already changing. When the Romans had conquered the lowlands in 15 BC, they brought a novelty, dikes, that were to define the country. Years later, returning crusaders brought the idea of irrigation windmills from the Middle East, and the Dutch used them backwards, to pump land dry. Soon they were making polders, plots of land surrounded by dikes, reclaimed from the sea.
Through the centuries, trial, error, and necessity led to the modern dike, the modern pumping station, and enormous polders. The Dutch have learned a lot in their fight against the sea, and they continue to fight because the moment they stop the sea will take over much of their land again.
Spier writes of one flood after another. In response, people like Vierlingh in the 16th century began to study the sea and the tides, gathering enormous amounts of knowledge in their 'war against the sea'. Around the same time, Leeghwater, a hydraulic engineer, mill builder, and architect, developed a means to drain large lakes, turning them into rich farmland. Estimated costs to drain one large lake were 3,000,000 guilders around a time when Manhattan Island was bought from the Indians for a mere 60 guilders! Obviously, his visions were not accomplished until centuries later.
Peter Spier wrote this book in the late 1960s, long before modern angst about global warming although, as a Dutchman, he was concerned about the possibility of the sea rising and flooding his beloved country. He wrote about how melting polar icecaps around 1200 AD made the northern waters less salty. As a result, herring moved south into the saltier North Sea, changing the face of the Dutch economy forever. Fishing and shipbuilding led to new prosperity and within a few centuries Dutch worldwide trade led to so much wealth that their taxes to the Spanish were four times greater than the revenue from the New World goldmines!
Of Dikes and Windmills is full of incredibly detailed maps, diagrams of windmills, and picture after picture of Dutch scenes, some colored, some black and white, and many humorous.   Written fifty years ago, it both tells of Dutch history and is itself history. Furthermore, it is a serious study of windmills, a sad memorial to endless flooding and loss of life, and a monument to one country's defining struggle against the sea.  It is full of stories both poignant and humorous but unfortunately the humor occasionally degenerates into irreverence.
This book is superb for anyone, 12 and up, who is interested in a lively, humorous illustrated history of the Netherlands, windmills, and the development of technology. I read it out loud and held the book up so that our teens could see the pictures. Ideally they would have studied them on their own as well. Of Dikes and Windmills is part of their study of Dutch and European history. It could also be used to study illustration and pen-and-ink technique.
*Note that this seems to be an abridged version of what Pliny actually wrote, but it is a direct quotation from Spier's book.
—  
If you enjoyed this review, you might want to friend me on Facebook where I occasionally show up, or connect with me on GoodReads where I eventually share what I read. 
Disclosure: We have owned this book for years and several of our teens have used it for their homeschool studies.
This may be linked to Saturday Reviews, Booknificent Thursdays, 52 Books in 52 Weeks Challenge, Literacy Musings Monday, and The Book Nook  as well as to Inspire Me Monday, Christian Homemaking, Friendship Friday, Make My Saturday Sweet.