Over the years we have used many story Bibles, but Teach Them Your Way, O Lord by Amanda de Boer is the best one I have come across. Written by a gifted mother and former teacher, it has several features that make it unique…. (see my full review)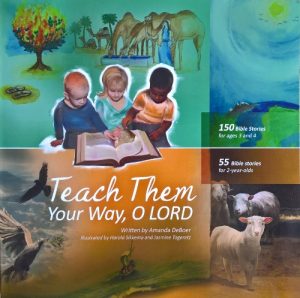 I wish this story Bible had been written years ago when my five children were small.   It is now becoming my favorite gift to Christian families with little ones.
If you are looking for a story Bible to help you teach your preschoolers the gospel and what it means for everyday life as well as Bible narratives, you will be thankful for Teach Them Your Way, O Lord. I think it could be used with children who are slightly older as well, and parents, too, will benefit from reading it to their little ones.
You can read my full review of Teach Them Your Way, O Lord at The Curriculum Choice.
—
(Although I had been planning to share another post about nature, technology glitches have been making it impossible to upload my photos.  Hopefully soon!)
—
If you enjoyed this review, you might want to connect with me on GoodReads where I eventually share what I read, or friend me on Facebook where I occasionally show up. 
Disclosure: I bought Teach Them Your Way, O Lord as a gift and was so impressed that I wanted to tell others about it. I am not compensated for sharing my opinions.
This may be linked to Saturday Reviews, Booknificent Thursdays, 52 Books in 52 Weeks Challenge, Literacy Musings Monday, and The Book Nook  as well as to Inspire Me Monday, Christian Homemakers, Friendship Friday.