Picture books form the foundation of most homeschools. They are fun, build memories, teach a wide variety of concepts, and can fill a child's mind with so much that is true, good, and beautiful.
Recently my homeschooling friends at the Curriculum Choice put together a list of their favorite picture book blog posts. Here are some of the highlights of that resource, with my contribution at the end.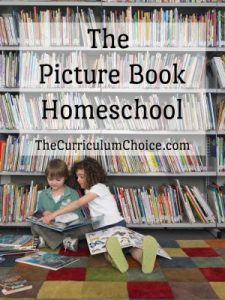 Heather gave several science ideas based on picture books such as Snowflake Bentley and Gregor Mendel: The Friar Who Grew Peas. She also wrote about Beatrix Potter, the wonderful Five in a Row curriculum, and how to organize a home library.
Tricia's family also enjoyed Five in a Row as well as Tapestry of Grace, both book-based curricula. Her family combines picture books with wonderful pastel art lessons.
Alison and her little girls love seasonal picture books. She writes about board books, book picnics, and 40 must-read picture books.
Eva, whose children are older, looks back on picture book days and explains how picture books led to art studies. They also were part of nature studies and unit studies in her family.
And here's my contribution: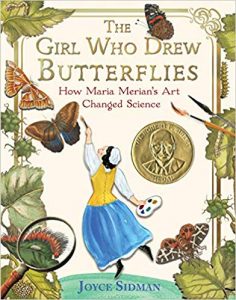 Although our family's actual picture book stage is long past, we have read some good ones lately. More and more quality picture books are being written for older children, teens, and adults. Some of the best nonfiction books these days are lavishly illustrated with photographs and they are easy to find in nonfiction sections of good children's libraries.
In terms of artistic merit, both literary and visual, The Girl Who Drew Butterflies is outstanding, one of my favorite books.
Simonetta Carr's beautiful Christian Biographies for Young Readers church history books are both informative and inspiring for all ages, not just young readers. I highly recommend them for general history as well as for church history for all ages, including high school, as a superb series of introductions to important Christians and their times. The illustrations make all the difference.
If you wish to read The Anglo Saxon Chronicle for high school, try to find an illustrated version. As I recall, Anne Savage's version is excellent; we ended up buying the illustrated, annotated version edited by Carruthers which is not as good, but still helpful. Writing about this motivated me to buy the Anne Savage version for Miss 19—she doesn't know yet, and I can't wait to see her face! I can't wait to reread it myself as well.
And if you really wish to understand Beowulf, find the illustrated version by Seamus Heany and John D. Niles. The translation is remarkable and the archeological pictures of places and treasure bring the story to life as nothing else can.
We have always loved Garth William's drawings in Laura Ingalls Wilders' Little House on the Prairie series. We read those over and over, once even losing one on a transatlantic flight.
Also I can't resist mentioning the many novels we read aloud as a family that are not really picture books at all, but that have filled our minds with all sorts of pictures.
—
If you enjoyed this review, you might want to connect with me on GoodReads where I eventually share what I read or friend me on Facebook where I occasionally show up.
Disclosure: I am not compensated for mentioning these books or for mentioning the Curriculum Choice article.
This post may be linked to Booknificent Thursdays, Literacy Musings Monday, and The Book Nook as well as to Inspire Me Monday, Homemaking Linkup, Friendship Friday.