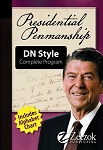 We are Canadians, so when I heard we'd be reviewing a penmanship program based on quotes from US presidents, I was not very excited.  However, it has turned out to be a real blessing.  One of my children needs practice handwriting, but an ordinary program with inane sentences about quick dogs and lazy foxes just would not work for him.  Quotes from the presidents, on the other hand, make the dreaded task just a bit more meaningful.  In fact, Presidential Penmanship has turned out to be copy work at its best. 
The DN Presidential Penmanship series of PDF workbooks that we received is for practicing both manuscript and cursive in the D'Nealian style.  This series has 8 printable workbooks, one for each of the first 6 grades and one each for junior and senior high school, and every workbook is composed of interesting quotes from America's history or from the Bible.  You can see extensive samples of the series we reviewed here.  Five other popular writing styles   are also available.    
The first two levels teach manuscript writing (also known as printing).  Miss 7 could use a lot of help neatening her printing.  In fact, I spend a lot of time getting her not to slant her letters or put tails on them…and that is just what this handwriting style wants her to do!  Obviously, we did not use the program for her. 
Miss 9 is working on cursive using another program, and at this stage, I don't want to switch her to the D'Nealian style since the letters are subtly different.  When she knows the basics and just needs practice, this series will be helpful for her, but for now she'll continue with what she has been using. 
Due to my lack of oversight and consistency in the past, however, Mr. 14 really needs help speeding up his handwriting.  This program is perfect for him.  With all the great quotes, he has something to think about while training his fingers to move a bit faster.  Since he might need a lot of practice, we started in one of the earlier books.  With Presidential Penmanship one can easily start an older child at a lower level because none of the presidential quotes is kids' stuff.  Rather than printing out the pages as a young child would need to do, however,  Mr. 14 just copies the quotations from the computer screen, agreeing or disagreeing as he writes. 
Mr. 14 will be using this program until he can write quickly.  Next year Miss 9 will be using it for handwriting practice; by then the subtle differences in letter formation will not bother her. Since this is not a program where every letter is taught individually, Miss 7 will learn cursive from our traditional workbooks before moving on to Presidential Penmanship.  As for the quotes themselves, they seem to drift through our home, to be commented on by all and sundry. 
These quotes are great discussion topics and can also be used for memory work.  Most of them are by past presidents, some are by the founding fathers, level five is from Washington's Rules of Civility and Decent Behavior and the Bible, and the upper levels include famous passages such as the Gettysburg Address.  Some quotations are repeated in several different grade levels.   The selections are meant to "… assist you in developing your family's love for God and country."  I think they also help develop character and common sense, which are obviously closely related.
 Here are a few short quotes that appealed to me, and you can see more when you check out the sample pages.  
"With self-discipline most anything is possible."  T. Roosevelt

"Worry is the interest paid by those who borrow trouble." George Washington

"Most folks are about as happy as they make up their minds to be."  Abraham Lincoln
I think Presidential Penmanship is a useful handwriting supplement as well as an excellent source of great ideas.  It seems that our prime minister, Mr. Harper, already knows many of these ideas, but the world would benefit hugely if other leaders, including Mr. Obama, would copy out and meditate on one of these lessons every day.  The world will also benefit if its future citizens have done the same during their growing up years.  I encourage you to investigate whether this program would help your children develop character and wisdom.  
For more parents' opinions, visit the Homeschool Review Crew blog. 
—
Although we reviewed Presidential Penmanship, there's another wonderful series from Zeezok Publishers.  They are reprinting the classic music biographies by Opal Wheeler and Sybil Deucher!  We have several of the original books, found at used book sales, and they are simply wonderful.  I cannot recommend them highly enough.  Some of the crew members received these to review, so be sure to check out their reviews at the Homeschool Review Crew blog.   
Disclosure:   As a member of the TOS Homeschool Crew, I received a free copy of the DN Presidential Penmanship program from Zeezok Publishing in order to review it.