After very busy days, I've been slipping into the Dutch countryside of dunes, mills, castles, canals, and swamps with teenaged Tom, his amazing dog Scout, and his two friends Carl and Bert.  In Piet Prins's seven-book Scout series, Tom and his friends help free their village from the Nazis, save lives, track down smugglers, burglars, and poachers, and get themselves into many other dangerous adventures.  The friends are authentic Christians as well as adventuresome boys.  They try to obey their parents, struggle with their consciences when tempted to do wrong, depend on God, and treat the everyday details of Christian living matter-of-factly.  I love being able to hand my children thrilling books with good morals, language, and worldview.
Piet Prins, Christian, concentration camp survivor, teacher, politician, and best-selling Dutch author, wrote these fast-paced novels many years ago, but they are still beloved today.  English translations are available from Inheritance Publications.
Scout:  The Secret of the Swamp
It's a tense time in Nazi-occupied Holland, and Tom, together with his friends Carl and Bert and his talented dog Scout, are involved in frightening situations as the Nazi's go about their sinister work.  Scout's tracking ability and intelligence rescue Tom as well as others.  When Canadian troops finally enter the area, fighting intensifies and the boys overhear a military plot.  They realize it's up to them and Scout to save the Canadians from an ambush, but can they trek through the dark, dangerous swamp in time?
This is one of my favorite books.  It's full of danger and bravery and vividly portrays the terrors of occupation, all the while showing the peace that comes from the Lord. I first read it in Dutch when I was a child and, although my children have access to the English translation, I use the original to teach them the Dutch language.
Scout:  The Haunted Castle
Only a year after the end of World War Two, Tom, his friends, and his sisters are invited to vacation at a Dutch farm near the German border.  Scout, Tom's well-trained dog, accompanies them on their rambles through the woods and to the mysterious castle ruins nearby.  In fact, due to Scout's keen nose, the teenagers are able to help the police in their search for robbers and a large smuggling ring. When Tom takes things into his own hands he finds both excitement and terrible danger.
This exciting story is full of elements of everyday Christian life.  Bible reading, prayer, trust, repentance, obedience, and church attendance are not discussed but rather mentioned in passing as parts of everyday life.  The castle's ancient mystery brings reformation times to life, but even this is quickly pushed aside by present excitement. This matter-of-fact approach to Christianity is refreshing different from mainstream evangelical youth literature where faith is either the main focus or an obvious addition to a rather secular story.
Scout: The Flying Phantom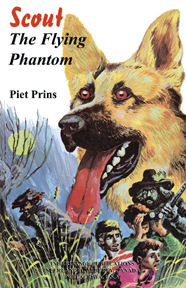 Tom and his friends spend their spring vacation building a hut on nearby Willow Island.  From their island lookout they discover a fire, one of many mysterious events that may be related to a ghostly phantom who skims across the dangerous swamp unharmed.  The boys, together with their friend Captain Brandenburg, do some dangerous sleuthing to discover what or who has been terrorizing their village.
The world is full of horror books about spirits and sorcery, but this novel is not like that at all. Since only a spirit could walk over quicksand unharmed, the stories of superstitious Tinus make many villagers think that a real ghost must haunt the swamp.  To Tinus's dismay, Captain Brandenburg tells him that the criminal uses these stories and the fear they create to carry out his evil plans.  In fact, he even reprimands the old man for filling everyone's heads with silly tales: "A Christian man like yourself should know better."
Scout:  The Sailing Sleuths
After completing their school year, Tom and his friends, with Scout of course, set off for a sailing trip through the Dutch canals and lakes.  When the three boys meet some characters who live in a horse-drawn caravan, their troubles begin:  they are thrown in jail for a crime they didn't commit.  From one dangerous adventure to another, the boys race through the lakes to clear their names and find the true criminals.
I loved sailing along with the boys, enjoying their cooking and the people they meet.  When it got to the adventures, however, I was very glad this is fiction!  Again Piet Prins portrays Biblical values and lifestyle in an exciting story without being either preachy or unrealistic.
Scout:  The Treasure of Rodensteyn Castle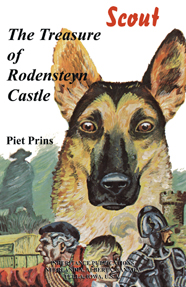 Tom, Carl, Bert, and Scout vacation at the seaside with 'Uncle' Arnie and 'Aunt' Clara.  Uncle Arnie is a great story-teller, having lived an exciting life as an engineer in remote places, and his house is filled with exotic souvenirs.  However, the most gripping stories he tells are about Rodensteyn Castle, once the scene of brutal evil as well as great godliness but now lost under the moving dunes.  Of course the boys are intrigued by the missing castle especially when they learn it is associated with treasure.  Add a mysterious being with disappearing footsteps and Uncle Arnie's own search for true Treasure, and you have the ingredients for a deeply satisfying story.
This is the most moving book of the series.  Uncle Arnie, raised as a Christian, has lived most of his life without God, but the boys' presence reminds him of his roots.  During the weeks of the boys' vacation, his search for true Treasure is rewarded, just as the boys' search is.
Scout:  The Mystery of the Abandoned Mill
This time Tom, Scout, and their two friends are spending a holiday at Uncle Kees's farm in the Dutch countryside.  They help with the haying, discover an abandoned mill, take care of Aunt Lena's menagerie, and befriend  Dick, a young boy whom Scout saved from drowning.  They also meet a nasty man with an even nastier dog.  Unexpectedly the nasty man not only knows Dick, but also about the treasure his family lost during the war.  Inevitably, Tom and his friends are drawn into danger while trying to find the treasure before Mr Nasty does.
I found this novel very exciting, and am glad my children do not get into the situations that Tom, Carl, and Bert get into.  The three friends are so eager to do good that they recklessly get themselves into trouble again and again.
Scout's Distant Journey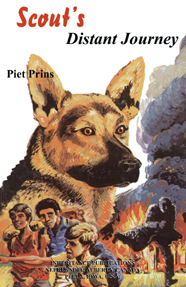 Tom and his friends unexpectedly bump into Tom's long lost Uncle Bob and soon realize that they have found a fascinating relative.  Uncle Bob has lived an adventurous life and, to the boys' frustration, thinks modern youth are pampered.  When the boys are invited to visit the castle Uncle Bob and Aunt Alice are renovating, they try to prove their toughness by walking the enormous distance rather than taking the train.  Unfortunately, one disaster after another overtakes them.  Most unnerving of all, Scout no longer reliably warns them of danger.
This well-written story clearly conveys the frustration the boys feel when they seem helpless against injustice and evil.  It also portrays the exhilaration they experience when they make their own way and the joy of meeting fellow Christians on their travels.
Our Opinions
Even after completing all of these books in a month's time, I'm still not tired of the adventuresome friends and their amazing dog, Scout.  My children and I love these books and we recommend them highly.  The Scout Series would make a great Christmas gift for anyone age nine or older.
Note that the first book, The Secret of the Swamp, contains the Inheritance Publications Catalogue and is free with any order.
I received The Sailing Sleuths and the Mystery of the Abandoned Mill from Inheritance Publications for the purpose of this review.  Four of the other books are from our personal library and one is from our church library.