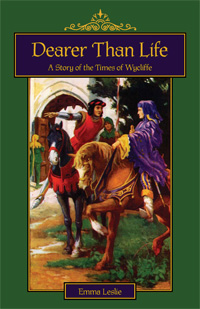 When Sir Hugh Middleton returns from attending Parliament one warm summer day in 1366, we are welcomed with him into the bosom of his family.  Impetuous Maud immediately tells the news:  the local monastery has claimed one of the family's fields.  Furious at the monks' grasping ways, Sir Hugh takes his field back, to their grandam's horror, and simultaneously finalizes his sons' futures.  Young Harry will become a page in the service of the king's brother, the Duke of Lancaster, a powerful man known for his attempts to limit the French pope's power.  As for Stephen, he will not become a monk as the monastery had assumed; instead he will study with Wycliffe, the learned man who opposes both friars and pope.  This is too much for their autocratic grandam.  She determines to prevent such sacrilege by donating the family's store of linen and woolen fabric to the monastery.  Without fabric for clothing, the boys will not be able to leave.
Read Emma Leslie's thrilling account to see how Maud and her invalid sister Madge foil their grandam's plans and how the whole Middleton family is shaken to the core by the religious and political upheavals of their day.
With historical accuracy, the author portrays the heartrending situation of the poor, the corruption of the clergy, and the joy that accompanies Wycliffe's preaching, as well as many other aspects of daily life in 14th century England.
Dearer Than Life by Emma Leslie is an inspiring book and is very difficult to put down.  We loved it!  It would make a welcome gift for any teen or adult bookworm, especially one interested in history or church history.
Dearer Than Life: A Story of the Times of Wycliffe by Emma Leslie is available from Salem Ridge Press and is part of their Church History series.  I encourage you to explore Salem Ridge Press's many other exciting and wholesome books before finishing your Christmas shopping.
—
If you enjoyed this review, you might want to follow me on Google+ where I often mention helpful or interesting ideas, or connect with me on GoodReads where I share what I read. 
Disclosure:  I received this book from Salem Ridge Press in order to review it.  I receive no compensation for this review and my opinions are my own.