Although I?m not making official resolutions or goals this year, I am looking forward to a year full of reading, with the children and by myself.  These are the reading challenges going on at our home this year.  So far.
—
This will be my second year with the 52 Books in 52 Weeks Challenge.  I love having a list of books I've read each year, because it helps me remember the joy and learning involved with each one.   
—
I'm also joining a Jane Austen Challenge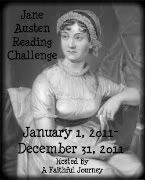 in which my goals are to reread
Pride and Prejudice
Northanger Abbey
Sense and Sensibility
Mansfield Park
Emma
Persuasion,
 as well as to study Miniatures and Morals:  The Christian Novels of Jane Austen by Peter J. Leithart, which is an analysis of the above six novels, and to find a good biography of Jane Austen.
Together with Miss 13, who  is also joining this challenge, and Miss 18, I also plan to watch several Austen movies.  This will be a wonderful mother-daughter-sister project for us to enjoy this year.  Miss 18 may not have enough time for all the reading, but she will definitely watch the movies with us.
—
There?s also the Well-Educated Mind Challenge that looks like fun for a person with a lot of time, and the 12 Classics in 12 Months Challenge that would also be a good idea.  Right now I?m not committing to those?but we?ll see if anyone at our house ends up joining them later on.