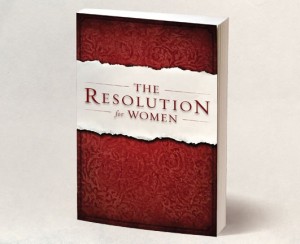 Did you know that everyone makes resolutions, all the time?  Each day we choose how to act, what to do, how to live, and what kind of person to be.  Others know us by these choices that shape our todays and our tomorrows.   However, we're often not intentional about the decisions that mold our lives. 
In The Resolution for Women, Priscilla Shirer reaches out to women in the nitty-gritty of life and encourages them to live as God wants them to.  What's more, she recommends accountability, something I've discovered to be so essential that I think those who refuse to be accountable to anyone are setting themselves up for disaster.  But that's just a personal aside.
Priscilla divides her book into 3 groups of resolutions and explores several facets of each.
"This is who I am" includes resolutions
To be content
To champion femininity
To value myself and celebrate others
To be devoted to Christ and defined by His Word
"This is what I have" includes resolutions
To devote myself completely to God's priorities for my life
To esteem others with my time, concern, and full attention
To release others from the prison of my hurt and anger
To live with the highest standards of virtue and purity
To care
"This is what matters to me" includes resolutions
To be the kind of woman who truly blesses her man
To train my kids in righteousness
To make my home a welcome place to be
To live today with tomorrow in mind
Priscilla discusses each resolution from different angles in several chapters.  Each chapter ends with some personal questions to help the reader understand and apply the concepts to her life.  The final chapter in each resolution includes a place to sign the resolution after committing to it in prayer.
Unlike the previous book in this review series, Courageous Living, this is not a Bible study.  Most of its concepts are Biblical, however, and any woman who wants to live for the Lord would benefit from considering these resolutions.  I personally would reword some of them before signing them, but they are all worth careful pondering. 
I'm considering rereading this book one chapter a week, at least once more this year.  If anyone cares to join me, please let me know; it would be great to have an accountability partner. 
This is the second in a series of 4 reviews of resources from Sherwood Baptist Church: Courageous Living (book), The Resolution for Women (book), The Resolution for Men (book), and Courageous (DVD).
Disclosure: This book has been provided courtesy of David C Cook and Graf-Martin Communications, Inc. and is available at your favourite bookseller from B&H Publishing Group.
The Resolution for Women is my first book in the 2012 52 Books in 52 Weeks Challenge. For more inspiration, visit No Ordinary Blog Hop, Encourage One Another Wednesday, and Women Living Well Wednesdays.