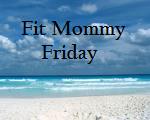 encouraging each other to care well for the bodies God has given us
My personal goal is to regain strength after a debilitating illness so that I can live a healthy, active life with my family.
Whatever your fitness goal, please feel free to join Fit Mommy any time.
You know how, after you've told someone about something that bothers you, it seems to go away?  Well, after I posted my scary health discovery last week, about my cells dying when I overdo it, I felt so much better that I promptly went out and overexerted myself!  I actually carried quite a few 5-gallon pails of water to our apple trees.  So silly!
Obviously, I did not feel well Sunday, Monday, and Tuesday.  I'm still not doing anything requiring lifting or strenuous arm movements, although I'll try grocery shopping today.
Here's how I did with my specific fitness goals this week.
Record my fitness accomplishments each day… Yes.
Do 10 repetitions of my eye exercises 5 days a week and relax my eyes …Only the relaxing and one set of exercises.
Go for a daily walk and average 7500 steps a day … Here are my steps for the week: 7600, 7200, 3700, 4800, 7700, 7700, with a daily average of 6450.
Have good posture and do core strengthening exercises while walking… Still working on it.
Be usefully active for 1 to 2 hours a day, 6 days a week, without overdoing it … No.  After overexerting myself I was unable to do much for a few days.  I've started gentle garden work again, and that worked out well.  I probably won't be able to hang out a complete load of laundry yet, but my children cheerfully pitch in when necessary.  Nor can I play in the pool yet, but I hang around in it with the kids.
Avoid sugar five days a week … No.  Yesterday, the day we covered our 4000 square foot garden with straw mulch because of the heat and the drought (got to save that water!), we sent the kids out for Frosties.  Then we decided we wanted some too, and I drank a whole coke Frostie.  Yum!
Eat lots of vegetables, including fresh ones, and yoghurt … Lots of vegetables and fruit, especially snap peas, cabbage, and radish seed pods, and lots of yoghurt.
Prepare and eat one fermented food a week… We're still enjoying both the ginger ale and the ginger carrots, but I must start some more today.  The carrots turned out very salty, so I mixed them with cole slaw and that worked well.
Relax daily…Most days.
Cut something out of my schedule…We're just floating through the summer, gardening, going out, and chipping away at home and learning goals.  It's very peaceful.
Have fun with the kids, including active fun…We swam a lot, read aloud a lot, attended a string concert, and ate well.  And we slurped Frosties.
How about you? Did you exercise, eat well, and relax happily this week?
Please link up your health and fitness post in the comments below. You can use your own format, your own goals, and post on whatever day works for you. Just don't forget to link back here from your post.
Note: Fit Mommy Friday is the Health and Fitness Check-In column of The Christian Home Carnival.