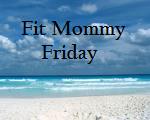 encouraging each other to care well for the bodies God has given us
My personal goal is to regain strength after a debilitating illness so that I can live a healthy, active life with my family.
Whatever your fitness goal, please feel free to join Fit Mommy any time.
So, this week my husband sent me a link to a paper that explained why my mild-mannered MD shouted (yes, really!) at me, years ago, when I suggested aerobic exercise. If the doctor's diagnosis is correct, and if the paper is correct, and if I understand it all correctly, that strange exhaustion I feel after overdoing it is due to cells actually dying from not being able to keep up. No wonder it takes me weeks to recover! What's more, if I push myself hard enough, so many cells can die that organ failure can result. Very scary!
I'll give up my unvoiced plans of eventualy doing aerobics and just focus on flexibility and rebuilding strength, very slowly (i.e. start callisthenics again).
On the good side, that same MD said there was a hope of me becoming completely well if I became completely fanatical about food choices. His suggestions included fermenting, soaking, and sprouting foods….and guess what, I made yoghurt, ginger ale, and ginger carrots this week!  So that's the good news.  Now I just hope the last two will taste OK.
So there's hope, and we're cheerfully moving forward. What a blessing that I don't need to do hard physical work.  Instead, I get to homeschool, read, review, hang out with my family, run errands, take the kids on outings, do light gardening,and make and eat yummy foods.  Really, there are so many things I can do, and it's no use complaining about the ones I can't.
Here's how I did with my specific fitness goals this week.
Record my fitness accomplishments each day… Yes.
Do 10 repetitions of my eye exercises 5 days a week and relax my eyes …Only the relaxing.  But I'm starting the eye exercises again, at 5 reps a day.
Go for a daily walk and average 7500 steps a day … Here are my steps for the week: 6500, 7500, 8200, 7800, 8000, 11,000, with an average of 8200.  I know I walked way too much yesterday , but since it was spread out evenly throughout the day it did not bother me, so far.  I'm keeping the goal at 7500 steps, though.
Have good posture and do core strengthening exercises while walking… Still working on it.
Be usefully active for 1 to 2 hours a day, 6 days a week, without overdoing it … Yes.
Avoid sugar five days a week … Yes.
Eat lots of vegetables, including fresh ones, and yoghurt … Lots of vegetables and fruit, especially snap peas, cabbage, radish seed pods, and pineapple (it was on sale), and lots of yoghurt.
Prepare and eat one fermented food a week… Yes, I made both ginger carrots and ginger ale.  This afternoon they should be ready to taste, and I'm really curious.
Relax daily…Probably not enough.  I must discipline myself to lie down just for a few minutes, even if it is only to do my devotions.  I tend to forget them if I forget to take a rest.
Cut something out of my schedule…With my computer at the shop, doing the homeschool marks and planning the next year are on hold.  That gives me time to do a lot of more hands-on things, and I love it.
Have fun with the kids, including active fun…We swam, watched fireworks, went to a park morning with friends, read aloud, attended Shakespeare in the park, and ate well.
How about you? Did you exercise, eat well, and relax happily this week?
Please link up your health and fitness post in the comments below. You can use your own format, your own goals, and post on whatever day works for you. Just don't forget to link back here from your post.
Note: Fit Mommy Friday is the Health and Fitness Check-In column of The Christian Home Carnival.