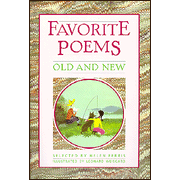 I cannot remember where I first heard about Favorite Poems Old and New, but I do recall the excitement when I finally found it somewhere, second-hand and affordable.
This sturdy volume of almost 600 pages is a treasure.  Last night Miss 12 was wandering around aimlessly, so we grabbed the book and settled down on the verandah couch for half an hour of poetry.  We chose the section on funny poetry (of course) and laughed and giggled our way through it, skipping the violent verses, until bed time.  Then we just needed to dip into the rest of the book –for only a few minutes, of course—but they stretched on and on.  Of course.  Miss 12 went to bed much too late, but very happy.
You can read the rest of this review over at The Curriculum Choice.
—
For more information about classical education, you can visit Trivium Tuesdays, and for more great read alouds, visit Read Aloud Thursday.