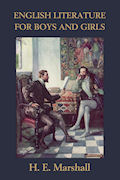 Ambleside Online has influenced our family in many ways, not the least by introducing us to great books. One that we've been using for many years is English Literature for Boys and Girls by H.E. Marshall, written in 1909. We are blessed to have a century-old copy for our teens, complete with roughly cut pages and sturdy binding.
In 85 delightful chapters, H.E. Marshall traces English literature from the ancient Irish legend "The Cattle Raid of Cooley" to Tennyson. She includes excerpts of stories and poems, summaries of larger works, and many interesting biographical and historical tidbits…. 
You can read the rest of the review over at The Curriculum Choice.
—
 For more information about classical homeschooling, please visit Trivium Tuesday.