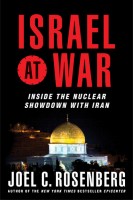 Israel at War: Inside the Nuclear Showdown with Iran provides a well-documented summary of the Israel-Iran conflict, often hidden, that threatens to erupt into war.  Since one of Iran's top goals is to destroy Israel and Israel's major goal is survival, there is obviously serious conflict.
While Iran's rhetoric is so radical that it seems unbelievable, Israel's anxiety is so contained that it seems minimal.  At least to many, and at least for now.  However, it's obvious that something will have to happen. Since Iran is working hard to develop a nuclear arsenal, soon, the 'something' that will happen could be massive.  Since Iran wants to destroy the US as well as Israel, this 'something' will affect much more than just the Middle East.
Rosenberg, an long-time expert in Middle East affairs, grapples with the questions:  What will Netanyahu of Israel do to prevent this?  Will the US do anything?  And when?  He analyzes the past, discusses the present from various angles, and even brings in the future as mentioned in Biblical prophecy. 
Of course, Rosenberg can come to no firm conclusion, but it seems apparent that potential disaster may be looming. 
Is there anything that can be done by the rest of the world?  Joel C. Rosenberg and his wife have set up the non-profit Joshua Fund "to mobilize Christians to bless Israel and her neighbors in the name of Jesus according to Genesis 12: 1-3….In the current geopolitical environment, our operating principle is very simple:  Pray for peace and prepare for war." Rosenberg's book Israel at War provides us with a summary we can use to inform our prayers.
I am not an expert on the Middle East, nor on Biblical prophecy.  In fact, I hesitate to turn prophecy into immediate and specific predictions, preferring the approach of The Glorious Victory.  Even so, during the current massive storm, it is obvious that God holds the world in his hands and that a massive military storm is also possible. 
Currently Israel at War: Inside the Nuclear Showdown with Iran, a 142-page ebook, is available from major booksellers for $2.99. 
This is yet another book in the in the 2012 52 Books in 52 Weeks Challenge, and is also linked to Saturday Reviews.
Disclosure I received a free review copy of this ebook from the Tyndale Blog Network in order to share my honest opinions.