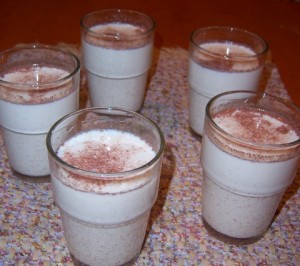 Besides sharing profound but simple truths such as "Time to Worry Means Time to Pray," my friend Jessica shares yummy recipes.  Like her festive milk nog, a delicious and simple egg-free version of eggnog.
However, Jessica's milk nog was a bit too sweet, rich, and expensive for everyday fare so we simplified the recipe.  With our everyday version, we can enjoy it several times a week, and we do.   In fact, we now buy whole milk expressly for this recipe.
When I call out, "Snack time, we're having milk nog!" my kids come rushing into the kitchen.  "Yum!"
Here's the recipe for Everyday Milk Nog:
1 1/3 litres or quarts of

whole

milk (about 5 1/3 cups, but the amounts are flexible; our milk comes in bags this size)
3 T sugar
½ t cinnamon
½ t nutmeg
2 t vanilla
Pour it all into a large pitcher, stir well, and serve immediately.  If you wait too long, the spices settle and you'll just need to stir it again.  No big deal.
This drink is delicious, healthy, has no unpronounceable ingredients, and is egg-free.  By accident I discovered that even the vanilla can be left out.  No one noticed, but it's better with vanilla than without.
We love Everyday Milk Nog, but for festive occasions be sure to try Jessica's original Milk Nog instead.
—For more tips visit  Better Mom Monday, Encourage One Another Wednesday, Women Living Well Wednesdays, Works For Me Wednesday , Wisdom Wednesdays, Raising Homemakers, and Frugal Food Thursdays.