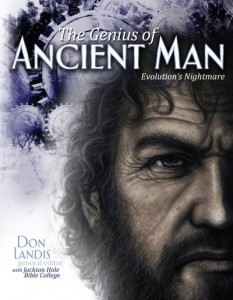 There are two opposing points of view about ancient man:
He was relatively unintelligent and incapable of deep thoughts or great inventions, or
He was very intelligent and made great strides in many different fields in a remarkably short time.
One would suppose that archeology should be able to decide this question.  However, even though the world is full of evidence of the great technical ability and deep understanding of ancient man, many scholars prefer the unintelligent-ancient-man viewpoint for philosophical reasons.  Others, accepting the evidence of great intelligence, conclude that extra-terrestrials must have been involved.
Of course, the other way out of the dilemma is to suppose that early man was indeed very intelligent and that each individual had centuries to learn and experiment, as the Bible says.
This is the viewpoint defended by Don Landis in The Genius of Ancient Man:  Evolution's Nightmare.  In this lavishly illustrated hardcover book, Landis and Jackson Hole Bible College show and discuss evidences of early man's great technical skill in many different areas.
Based on the idea that Satan tries to distort everything God does, Landis compares the many temples and mounds throughout the world to the Tower of Babel.  He discusses similarities among legends from all parts of the globe, the importance of 'east,' the incredible knowledge of astronomy, the amazing construction skills, the evidences of world-wide navigation, and the significance of dragons.
Landis's goal is to show Christians that worldwide archeological evidence makes sense only in the framework of the Bible.   He doesn't use archeology to interpret the Bible; rather he uses a literal reading of the Bible to interpret archeology.  And it works very well.
I'm not sure I understand and accept all of Landis's ideas about the Bible or the past, but I fully agree with his two main ideas:
God made man good and in His image as the Bible says, and
archeological finds make sense when interpreted in the light of Bible history.
If you want a Biblical and refreshing look at ancient history, as well as a visual tour of many incredible buildings and ruins, you will want to read this book.  Highly recommended for all; even young children will enjoy the many photographs. 
This book is available from the publishers as well as from sites like Amazon.
This is the kind of book I would recommend for your teen's science and math reading. 
—
Note: As I state more often in reviews, this book would have benefited somewhat from more careful proofreading. 
This is yet another book in the in the 2012 52 Books in 52 Weeks Challenge, and is also linked to Saturday Reviews, Trivium Tuesdays, Encourage One Another Wednesday, and Favorite Resources this Week. 
Disclosure: This book has been provided courtesy of New Leaf Publishing Group for the purpose of this review.