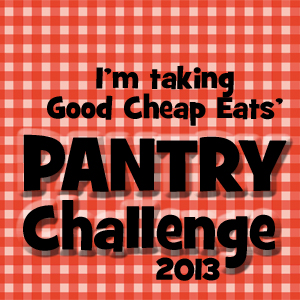 In the comments on Jessica's Pantry Challenge a few weeks ago, there was a small discussion about hoarding food.  It made me think.
You see, we have 3 large freezers and a pantry.  That's mostly because we grow an enormous garden, a small orchard, and our own meat chickens.  Because it's early winter after a successful harvest, our food supplies are still very high.  Yes, we have food, lots of it.  Does that mean we're hoarding food?
I thought about it for a while and realized that we are not food hoarders. 
Rather we are food producers who live in harmony with the seasons.  That accounts for the bulk of our freezer content.
And we're careful shoppers who always buy a bit extra of meats that are on sale.
But occasionally we are disorganized and lazy and don't manage our food supplies.  Jessica's Pantry Challenges remind me to focus on careful management of our food supplies.
So, although we are not food hoarders, I do need to be a good steward of our resources and use these blessings wisely. They should not just sit there in our freezers; we should be eating them. That does mean minimizing grocery store visits and focussing on eating what we already have.
This week we did quite well:
We ate about a shoe box's worth of food from the freezer most days.
We enjoyed (or endured) squash twice, but had no pumpkin.
I personally did hardly any grocery shopping, but I must be fair and report that the kids did some for me.   We bought more than expected during a pantry challenge since we're having a celebration this week and that always calls for special food.  Even so, we spent about $60 less than usual on groceries this week.
I did not think too much about the pantry challenge, since that causes problems.  Instead, I thought about yummy food.  It worked.
This official Pantry Challenge has one more week, and my goals for next week will be the same.  I do hope to finish with a bang and avoid almost all grocery shopping next week except for essentials like milk.
If you have a pantry or freezer to get under control, you can still join Jessica's Pantry Challenge! This post is also linked to Frugal Tuesday Tip, Better Mom Monday, Encourage One Another Wednesday, Women Living Well Wednesdays, Works For Me Wednesday , Wisdom Wednesdays, Raising Homemakers, and Frugal Friday.