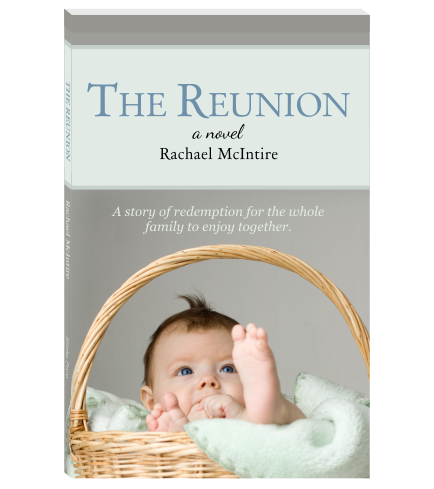 Four-year-old Rebecca opened the door further to get a better look. It was then that she noticed a tiny bundle cozily nestled in a wicker basket, the baby's enormous blue eyes peeking through the folds of its blanket into the equally blue skies of the morning. Rebecca began once again bouncing up and down, clapping her hands together and shouting, "Mommie, she's here, she's here! Jesus has sent me my little sister!
The Reunion, a sweet story about Rebecca and her new sister Sarah, lives up to the delightful excerpt.  Everyday life, unexpected plot twists, and a satisfying conclusion make this short Christian novel a joy to read.
However, The Reunion is not an ordinary novel.  Although I enjoyed the plot and the characters, I never lost the feeling that it was more a story about Jesus than anyone else.  Sarah's adoptive family was Christian, and Jesus was very real to them.  Living in a time when homeschooling was rare, the family witnessed for the Lord in practical ways where ever they were:  at school, in the neighborhood, and at home.  The good people were good, the sad ones comforted, and the bad ones easily influenced, usually.  In that sense, The Reunion is a Christian fairy tale, full of hope and good endings that God does not always grant in this life.
But it is even more than that.  At times, I almost felt as though I were reading a manual for Christian living, although the story was always front and center.  This slim book has much to say to both parents and children.
Novel?  Fairytale?  Manual?  Whatever else it may be, The Reunion is a delightful, cozy story with a deep commitment to Jesus. 
This wholesome, heartwarming, moving book is recommended for ages 10 and up, including adults.
You can purchase The Reunion from the publisher using the discount code REVIEW-ANNIEK (good for $2 off through February 2013, and $1.00 off afterwards).  Note that The Reunion is not available from major online retailers.
NOTE:  The Reunion is now available for free as an ebook.
Disclosure:  I received a free copy of this book for the purpose of this review and have shared my own honest opinions.
This review is linked to Better Mom Monday, Encourage One Another Wednesday, Wisdom Wednesdays, and Raising Homemakers.