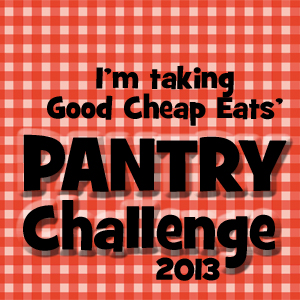 So, this winter's pantry challenge is over.  Did we meet our goals?  I think so.  We've eaten a lot from our freezers and pantry and have saved money at the stores, all while eating very well. 
And, as I hoped, we've also re-developed a family habit of using our food stockpile.  Not that there was much choice when I did not go shopping!
I will go shopping soon, though, for we need tea, celery, gluten-free flours, and, of course, toilet paper.  But I will also try to keep up the habit of eating from our food stores first of all.  It's a balancing act, like most of life, and I'm thankful for the discipline and reminder of Jessica's Pantry Challenge.
What's next?
Well, we've been offered the opportunity to buy a quarter beef and now we have room for it. That will be a huge and delicious saving that would not have been possible without the Pantry Challenge.
And, at least until the summer, I plan to continue to enjoy a shoebox's worth of frozen food every day—meat, fruit, and/or vegetables.  That should ensure that we empty two of our freezers and much of our pantry, ready for the next food-producing season.
One of my New Year's resolutions was to discover what most needs to be done and then to do it.  The Pantry Challenge was January's big home project.  What's up for February?  There are two options:  either do a major house cleaning/organizing, or prepare for this summer's vegetable and flower gardens.
But I won't delve into either one until I've finished my current huge homeschooling project:  Mr. 17's comprehensive high school records.  Once that's finished and he's sent in his application, I hope to focus more on the home front again.
Are you working on a large project?   How is it going?
This project was inspired by Jessica's Pantry Challenge. and is also linked to Frugal Tuesday Tip, Better Mom Monday, Encourage One Another Wednesday,  Works For Me Wednesday , and Raising Homemakers.