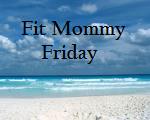 encouraging each other to care well for the bodies God has given us
by being active, eating wisely, and relaxing adequately
Well I'm still smiling at my computer (see last week's Fit Mommy check-in), and I'm moving more as well.
This week we had a day of warm weather, and the snow was sticky, perfect for making snowmen.  We made one, then another, and ended up with a beautiful row of six snowmen and two adorable snow dogs.  Not only is there a lot of gentle exercise involved with making snowmen, but even better, we were all outside having fun together.
I recently read a post about family fitness and realized that it is true:  if I'm outside being active and having fun, my kids often get involved; if not they would often rather stay inside.  I'm going to focus more on being physically active with my kids.  Not only is it fun for all of us, but it is also exercise, and it builds memories as well.  Are you active with your kids?  Please share what you do in the comments.
Here's how my goals went this week:
Record my fitness accomplishments each day… Yes.
Go for a daily walk and average 7500 steps a day … Here are my steps for the week:  6200, 6600, 7900, 7400, 6900, 5000 for an average of 6700 steps a day, which is getting better.  I used the treadmill a few times while reading a textbook for homeschool.
Do my physio exercises 5 or 6 days a week … I did them 5 days this week, but not the complete set each time.  Surprisingly, it was too much.  Oh well, slow and steady wins the race, as I've been learning, slowly, over the past few years!
Do 10 repetitions of my eye exercises 5 days a week and relax my eyes whenever I think of it …Yes, 6x.  I'm adding a new goal here:  smile at my work.  I love doing this; it really reduces facial tension and makes me feel happier too.
Avoid sugar five days a week … A spice cookie, twice. Snow ice cream, twice…and who can say 'no' to bowls of fresh snow, mixed with milk, vanilla, and sugar?
Eat lots of vegetables, including fresh ones, and yoghurt as well as one fermented or soaked food a week … I made no more yoghurt this week, but we did have soaked buckwheat, soaked pea soup, and soaked sorghum crepes.  We're eating quite a few veggies, but perhaps not as many as we should.
Eat substantial breakfasts … Kind of.  Omelets.  Yoghurt and fruit.  Huge bowls of cereal with yoghurt or milk.  Fried eggs.  And, of course, fruit or fruit juice.   Soaked buckwheat, with and without added coconut milk.  It's best if we can avoid the cereal, though.
Relax daily…Most days. Some deep relaxation with breathing exercises.  More careful time management.
Spend time outside… Yes.  Not much, but enough to build those snowmen and snow dogs.
Have fun with the kids, including active fun… We built snowmen, read aloud, watched a movie, ate good food, laughed a lot, and 'enjoyed' a power outage together, complete with pails of water from the ditch for flushing toilets.  Good thing it was warm weather!
Please link to your fitness post in the comments below.  Then go visiting and be encouraged by the experiences of other Fit Mommies.  If you write a blog post, please remember to link back here from your post so others can join in.
Note: Fit Mommy Friday is the Health and Fitness Check-In column of The Christian Home Carnival and is also linked to Encourage One Another Wednesday.