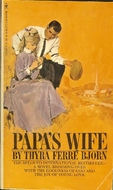 After lunch, I read aloud to the children.  It's one of my favorite times of day, especially while we've been reading Papa's Wife, an international best seller of the mid-20th century.
Papa's Wife by Thyra Ferre Bjorn tells the story of Maria who became a maid for Pastor Pontus Franzon in Lapland.  She was thrilled to be working for a minister.  "That is almost like working for the Lord God!" she had breathed in awe.  While he preached on Sunday morning, she fell in love with him, and so, at 16, she determined to become Mrs. Franzon.  It took many years, quantities of delicious baking, and a trip to America before Maria made up her Pastor's mind, but eventually they were married.
Based on the author's childhood, Papa's Wife is the story of Maria and Pontus Franzon, their love, their family, their life, and especially their faith.  Children arrived, and with them joy, noise, mischief, and many prayers.  I had to edit out parts of the childbirth scenes, but all four children (ages 10-17) enjoyed everything I read aloud.  We laughed a lot.  I almost cried.  We thought and pondered and learned.  But best of all, for an hour a day we lived with the Franzons as the children grew up, as Papa dealt with the strains of emigration, ministry, and family life, and as Mama lovingly tried to arrange everyone's life, trusting God to solve all the problems.
This book has been a real blessing to us.  It has given us hours of family enjoyment spent in the company of godly but thoroughly human people.   What's more, it has deepened my faith, increased my joy, and encouraged me to bake and clean more.  "You don't have to be influenced by books,"  Miss 15 told me as I puttered around the kitchen.  True, but I want to be influenced by this one.
I highly recommend Papa's Wife as a read aloud for any family. It's funny, full of faith, and heartwarming for all ages.  Your library may have it, and it is also easily available second hand.  Do get it; it will enrich your life!
I was thrilled to find out about the real people behind the story in Maria's obituary. 
This is yet another book in the in the 2012 52 Books in 52 Weeks Challenge, and is also linked to Read Aloud Thursday and Saturday Reviews.  For more encouragement to be a good wife and mother Better Mom Monday, Encourage One Another Wednesday, Works For Me Wednesday , Homemaking Link-Up, and Raising Homemakers. 
Disclosure: We have owned this book for years and I am not compensated in any way for sharing our thoughts with you.