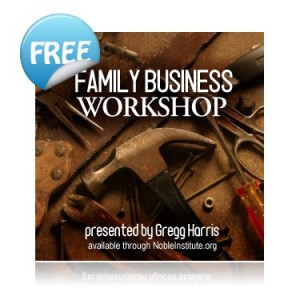 Does your family want a Christian outlook on business?  Are your kids budding entrepreneurs?  Are you looking for background information for a business course for your teens?
Well, here's a valuable freebie, The Family Business Workshop, from a homeschooling family whose children have excelled in many ways. I've just downloaded it and have not yet listened to it, but from past experience with Harris family products I'm sure it's great.  And, hey, if it's not what you want, it is free and you can always delete it.
Gregg Harris—long-time homeschool advocate, author of The Christian Homeschool, and father of Joshua Harris (I Kissed Dating Goodbye) and Brett and Alex Harris (TheRebelution.com, Do Hard Things)—is offering a free downloadable resource each month from his site, the Noble Institute. 
For the entire month of March Gregg is giving away free downloads of The Family Business Workshop.
Unfortunately we missed February's freebie, The Basic Homeschooling Workshop (current cost is $15.95), but I've heard some of it before on cassette and it was great.
Disclosure:  I am in no way compensated for telling you about this freebie.
For more inspiration, visit Encourage One Another Wednesday, Works For Me Wednesday , and Wisdom Wednesdays