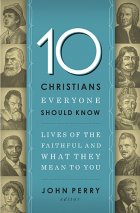 Because biographies are an important part of homeschooling, I jumped at the chance to review 10 Christians Everyone Should Know:  Lives of the Faithful and What They Mean to You.  However, though I am an avid reader,  I was initially so disappointed with this book that I had to put it away.
You see, the first chapter–about Saint Patrick–included a revolting quotation that was completely unnecessary to include in a mere summary.  The second chapter–about Galileo–was full of choppy sentences and did not explain why Galileo was among the 10 Christians everyone should know.  By the time I had gotten this far, I did not want to read another word, and therefore ignored the book for a few months.
However, after these two chapters the book improved dramatically.  The mini-biographies of Anne Bradstreet, John Bunyan, J.S. Bach, Jane Austen, D.L. Moody, George Washington Carver, Sergeant York, and William F. Buckley Jr. were well-written and captivating, with no more gruesome quotations.  I learned new facts, 'met' interesting people I already knew well and others I'd never heard of, and enjoyed seeing the Christian side of these people that is often ignored in secular biographies.
Though other Christians may have gotten more attention, it's interesting to dig into the lives and choices of this preacher, soldier, housewife, author, composer, bishop, and more. In the words of editor John Perry: "It would be almost impossible to imagine ten people more different from each other than these." Every human is unique, and so are Christians. Every believer can share his or her faith and inspire others in his or her own way.
Sharing that message seems to be one goal of this book. The other goal is, obviously, to get you to buy the Christian Encounters biographies these summaries have been based on.  And that has worked; I'm considering getting the books about Jane Austen and J. S. Bach.
Whereas at first I planned never to give this ebook to my teens to read, I am now wondering if it is possible to remove the Patrick chapter and give them the rest…or at least tell them not to bother with that first chapter.    After all, the other mini-biographies are great:  Christian, short, interesting, and informative—with a huge list of end notes for further information and a decent index.
This is could be a worthwhile book for your homeschool and, with its great end notes, a source of endless rabbit trails.
Disclosure I received a free review copy of this ebook from Booksneeze in order to share my honest opinions.
This is yet another book in the in the 2013 52 Books in 52 Weeks Challenge, and is also linked to Saturday Reviews and Trivium Tuesdays.