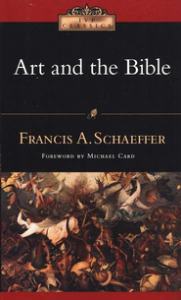 It is relatively easy to teach our children how to draw, make music, write poetry, or engage in any other creative venture.  There are many wonderful curricula, many great teachers, and an incredible wealth of examples.
But it's also important to teach them why we Christians make art and how to evaluate the art we encounter and make.
Francis Schaeffer, one of the most influential Christians of the previous century, has discussed these topics in his slim but important book Art and the Bible.  He has divided his book into two parts, "Art in the Bible" and "Some Perspectives on Art".
Apparently evangelicals are confused about art.  That's why Schaeffer feels the need to prove that God is interested in art and that we can and should be as well.  Beginning with Moses' tabernacle and Solomon's temple, both designed by God, the author tears down common evangelical objections to art.  He discusses Solomon's amazing throne, Hebrew poetry, and the temple music, concluding with the provocative statement that "the Christian life itself should be our greatest work of art."
After laying this groundwork, Dr. Schaeffer discusses 11 perspectives from which a Christian can consider and evaluate works of art.  I would love to list them all, but many are incomplete without Schaeffer's careful discussion.
Here are a few of his concepts:
Art forms add strength to the worldview which shows through, whatever it is.  (A physiological basis for this is discussed in some detail in Mindsight, which I reviewed here.)
Just because something is a great work of art does not make its worldview true.
There are four kinds of artists:

Christian with a Christian worldview
non-Christian with a non-Christian worldview
non-Christian with a Christian worldview, often absorbed from the surrounding culture, and
Christian with a non-Christian worldview, which, I suppose, would refer to Christians who have blindly accepted the culture around them.

The Christian worldview has a major and a minor theme; the major theme is one of meaning and purpose, and the minor theme is one of sin and despair.  Christian artists need to show both of these to show God's truth, although not necessarily in each work.
While discussing art, this book addresses a question I have been asking for over 30 years: What is the relationship between the Cultural Mandate (Genesis 1:28) and the Great Commission (Matthew 28:18-20)?
The Christian message begins with the existence of God forever and then with creation.  It does not begin with salvation.  We must be thankful for salvation, but the Christian message is more than that. Man has a value because he is made in the image of God…."
In conclusion, Schaeffer firmly believes that art is important to glorify God and to reflect his creativity.  His 11 perspectives on art, showing a deeply Christian worldview, will help Christians understand fundamental truths about their own and others' art.
This booklet is highly recommended for anyone interested in the arts, especially for families of teens who are considering art as a vocation.  It will inspire them and also equip them to glorify God in their art.  Actually, it is important for every Christian, because we are made in our Creator's image.
Art and the Bible is part of the Omnibus curriculum put out by Veritas Press.
Disclosure: We bought this book for our Omnibus studies and are not compensated for discussing it or the Omnibus curriculum.
This is yet another book in the in the 2013 52 Books in 52 Weeks Challenge, and is also linked to Saturday Reviews, Encourage One Another Wednesday, and Trivium Tuesdays.