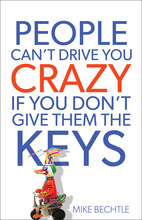 The world is full of people.  Since they—and we—are sinful, problems are inevitable.  In fact, sometimes people can be so disruptive that we think they are purposely driving us crazy, and perhaps they think the same about us.
But, says Mike Bechtle, People Can't Drive You Crazy if You Don't Give Them the Keys.  No matter what the situation, our emotions and actions do not have to be controlled by difficult people.  Instead, we have three options.  We can
change the situation,
change our attitude, or
leave the situation.
Of course, changing the situation would be easiest, if only it worked.  However, changing people is well-nigh impossible, although influencing them is possible if we spend time with them.   But, remember, counting on them to change or, worse yet, living for that hoped-for change is a sure way to give them the keys to our well-being.
The best and only effective solution is to change our attitude.  We don't want to let our lives and attitudes be controlled by the choices of others.  So how do we go about doing this?  Bechtle makes a strong case for working on ourselves and learning to live with humility, joy, perspective, patience, kindness, integrity, and commitment.  In this way we become less vulnerable to being controlled by the erratic actions and emotions of others.  Instead, we become more serene and more able to influence them by who we are.
Leaving the situation may occasionally be necessary, but in many instances it is inappropriate, says Bechtle.  Even when it is appropriate, for example when you need to find a new boss, a wise person will work through the other two steps before making a final break.
Unlike most books on this topic, People Can't Drive You Crazy if You Don't Give Them the Keys shows a solid Christian perspective.  I really appreciate how Bechtle uses Biblical principles and true wisdom in his advice.
Everyone can benefit from the section on how to change ourselves.  Everyone can benefit from the section on how people can see each other as crazy while both thinking their own viewpoints and actions are justified.
People Can't Drive You Crazy if You Don't Give Them the Keys is a great book.  Relationships are often messy, and this book will help you live with others in a Biblical and healthy way.
…
For an application of Bechtle's ideas, see my review of The Dance by Walsh and Smalley.
…
This is yet another book in the in the 2013 52 Books in 52 Weeks Challenge, and is also linked to Encourage One Another Wednesday, Raising Homemakers, Be Inspired by Others, Hearts for Home, and Saturday Reviews.
Disclosure: This book has been provided courtesy of Baker Publishing Group and Graf-Martin Communications, Inc. and is available at your favorite bookseller from Revell, a division of Baker Publishing Group.