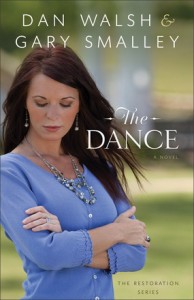 After 27 years of marriage, Marilyn Anderson is tired of trying to get through to her husband Jim.  Convinced he does not love her, she leaves home to sort out her thoughts and to live a few dreams.
When Jim arrives home and finds Marilyn gone, he is stunned.  A successful businessman, he is sure he has given her everything she could possibly want.  He cannot imagine what is wrong with her.  In fact, he assumes she is having an affair, but his children disagree.  In fact, two of the children are surprised he has never seen how unhappy she was; the other one is just like him.
With the help of an unexpected advisor, Jim comes to understand both himself and his wife, and he learns how to win Marilyn back.
According to my daughter  The Dance reads a bit like a marriage manual and that's no wonder, since Gary Smalley is a relationships expert.  However, Dan Walsh, the incredible story teller of The Reunion and The Discovery (links are to my reviews), wove this marriage advice into the novel without disrupting the story at all.
Although this is a sweet story, reminiscent of an early Nicholas Sparks novel, it disturbed me because the relationship advice did not seem to match the audience.
The main character of this novel is Jim.  He's the ogre, he learns, and he changes, and that's how the relationship is restored.  This story line worked for Sparks because his novel was pure story and therefore gave women hope that their husband could change.   Because Walsh and Smalley include more relationship advice, their book is completely different.  Rather than giving women hope, it gives them yet another list of things their husbands should be learning and doing, another list of reasons to resent them.
The Dance made me think of People Can't Drive you Crazy if You Don't Give Them the Keys.  As I pointed out in my review of that book, Bechtle says there are three approaches to difficult relationships: change the other person, change yourself, or leave the situation.  He points out that successfully changing another person is highly unlikely and that leaving the situation is often inappropriate.  These are the two options presented by The Dance:  women are given advice meant for their husbands, encouraging them to try to change their husbands; and they are shown that separation may have a positive effect, encouraging them to try it.  The middle option, changing oneself, could have helped Marilyn right from the beginning of her marriage.  It could have given her strength and wisdom to thrive personally and perhaps to influence her husband.  But this option is not addressed at all.
In my opinion, The Dance may tempt unhappy wives to try either the impossible or the inappropriate solution but it neglects the one positive approach.  I am surprised that such godly and talented authors would include relationship advice aimed at men in a book marketed to women.   
Any woman in a frustrating marriage had better read People Can't Drive You Crazy before she starts The Dance, but any woman in a stable marriage will enjoy the sweet story of The Dance and perhaps even be able to share some of its insights with her husband.
This is yet another book in the in the 2013 52 Books in 52 Weeks Challenge and is also linked to Saturday Reviews.
Disclosure: This book has been provided courtesy of Baker Publishing Group and Graf-Martin Communications, Inc. and is available at your favorite bookseller from Revell, a division of Baker Publishing Group.