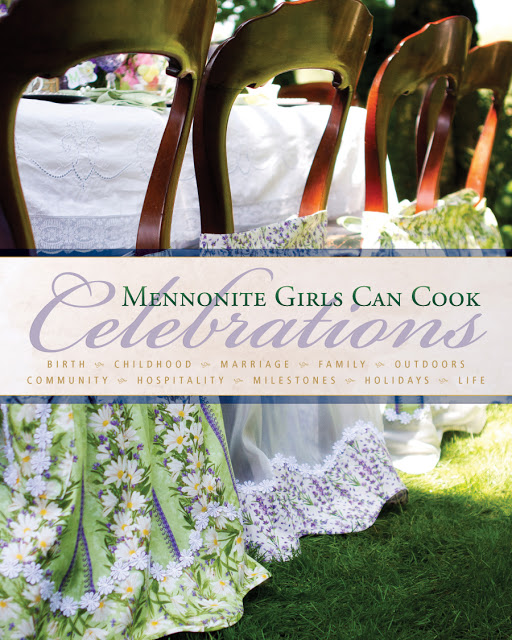 When I accepted this review opportunity I knew nothing about Mennonite Girls Can Cook.  I was, however, totally captivated by the book's cover and hoped for the best as far as the contents went.
Well, it was a great choice.  The contents of the book are as beautiful as its cover:  recipes, people, table settings, and events are portrayed with warmth and a great appreciation for God's delightful gift of food.
For, of course, it's mostly about food.  Celebration food.  We were planning several celebrations, so I thought we would use this book a lot for its luscious baking, colorful salads, and special treats.  But all my husband wanted for his birthday were homemade half-pound burgers and fries.  It's a guy thing, I'm told.  Other family celebrations were also low-key, cooking-wise, but we managed to sneak in some of the recipes from Celebrations just for fun.
The Sparkling Rhubarb Sorbet was a hit.  We ate it as sorbet for dessert and snack.  We mixed it with club soda for a delightful frosty and that tasted even better.  It was simple to make and we were able to cut the sugar almost in half.  Although it did take longer to freeze than the recipe suggested, the wait was worth it.
The Chilled Asparagus Bouquet with Chive Dip was also a great success.  At least the dip was. Not everyone in our house loves asparagus but all the other vegetables I prepared were gobbled up, covered with dip.
For a rich, gooey, gluten free treat, you can't beat the Campfire Banana Boats.  We had them on an afternoon full of frustrating schoolwork.  Yum!  The schoolwork did not go much better, but life was a bit more special after that.
Once I find millet flour, I want to try the gluten free Naan Bites with Spinach Dip.  In fact, I'm tempted to try the recipe without the millet flour, it looks so good.
We loved the recipe pages marked gluten free as well as the tips for making some of the other recipes gluten free.
I especially enjoyed the inspiring personal essays that accompany each chapter of Celebrations.  The whole approach of this book is deeply Christian—meditating on motherhood and marriage, on death and birthdays, illness and children, the outdoors and holidays—and on how we can prepare foods to make such occasions a blessing to others.  Often fancy cookbooks are about showing off.  These Christian ladies' goal in cooking and celebrating is not to show off but to serve. 
In fact, their goal in publishing this book is also to serve, for all the proceeds will go to a clean water project for school children in Kenya.
Celebrations is a gorgeous and uplifting cookbook that shuttles back and forth between our coffee table and our kitchen.  It makes family memories in the reading, the cooking, and the eating–all three.
This is yet another book in the in the 2013 52 Books in 52 Weeks Challenge, and is also linked to Saturday Reviews.
Disclosure: I received a review copy of this cookbook courtesy of MennoMedia (Herald Press) and Graf-Martin Communications, Inc.
This post is linked to Encourage One Another Wednesday, Works For Me Wednesday , Raising Homemakers, Growing Home, Above Rubies, Wisdom Wednesday.