For many people, this is curriculum choosing season.  Not for us. Yet.
Mr. 18 and I are still hard at work wrapping up grade 12.  Miss 15 and I need to go over the work she was able to do and organize her records.  However, the Little Misses have begun their summer holidays and spend their time playing games, preparing for our mid-summer vacation, reading, and even mopping the kitchen floor.
I'm really looking forward to being finished with this year and preparing for the next!  I can't wait to spend a few days going through booklists and making plans.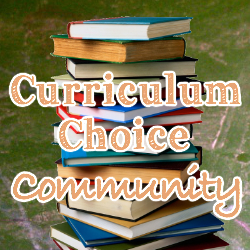 One resource I'll be turning to is the Curriculum Choice's series "Five Days of Choosing Curriculum," put together by a whole group of homeschooling moms, including me.  It's chock-full of helpful information and links.  This series also includes some giveaways. 
Here are the titles of the posts:
Enjoy dreaming about and planning your next homeschool year!