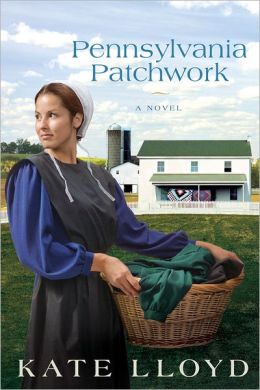 Holly Fisher, happily discovering her newly-found Amish heritage, is engaged to Zach, a busy Mennonite veterinarian.  Her mother, Esther, the wife of a Vietnam vet presumed dead, has returned to her Amish roots and is preparing to marry an Amish widower.  And, although she forgets most things, Holly's grandmother Anna is determined that Holly will also become Amish.
In this complicated novel, Holly is discouraged by Zach's frantic life as a vet and by rumors about his past.   She also meets a handsome Amish man and is visited by an old friend from Seattle.   When both Esther's past and her future become uncertain, she learns to trust God.  Anna, too, needs to face some of her worst fears.  While the relationships with the men are not thoroughly explored, the family relationships are portrayed beautifully.
Truly, this is a patchwork novel, stitched together out of many different fabrics.  The point of view changes too often for clarity.  So much happens to Holly that she seems flighty, and I did not get to know her well enough to understand her final response. Now, perhaps these issues would not bother me if I had read the first novel in this series.  However, this novel has another problem: Often little difficulties with the English language, especially word use, interrupted my involvement in the book.
Though I felt frustrated many times while reading Pennsylvania Patchwork, it rings true in important ways and is worth reading.  I have just downloaded its prequel, Leaving Lancaster, to really get to know the characters.   According to a comment on the author's website, Leaving Lancaster will be available for $2.99 for a month, and I recommend reading it first.
Please scroll down for information about a giveaway.  For more reviews, check out the LitFuse page.
This is yet another book in the 2013 52 Books in 52 Weeks Challenge and is also linked to Saturday Reviews.
Disclosure: I received a free copy of this novel from Litfuse in order to give you my honest opinion.
— 
Kate Lloyd is celebrating the release of book two in her Legacy of Lancaster Trilogy, Pennsylvania Patchwork, by giving away an authentic Amish-made quilt!

Enter today by clicking one of the icons below. But hurry, the giveaway ends on June 29th. Winner will be announced on July 1st at Kate's blog.

Tell your friends via FACEBOOK or TWITTER and increase your chances of winning.