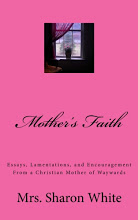 There is nothing as horrifying to a parent as watching a child run eagerly into the deceptive embrace of Satan.
My friend Sharon White has written a little book of hope called Mother's Faith:  Essays, Lamentations, and Encouragement from a Christian Mother of Waywards.  It is designed to comfort, encourage, and bring joy to suffering mothers and to remind them that 'mother's faith must never waver, no matter what the waywards do….'
Due to a difference in understanding the term 'waywards', I read the book as being about a child choosing his own way, in disobedience to God.   While parents pray constantly that this is temporary, at the time it can certainly seem to be purposeful, habitual, and without repentance.
However, after reading my review, Sharon asked me to clarify that,
"I believe all children go through a period of waywardness just as a part of growing up….The purpose of the book was to help mothers stop thinking it is "their fault" and to patiently wait out these years, as a loving supporting praying mother.    I don't believe waywards have turned their back on the Lord. They are stumbling and trying to find their way, trying to build up experiences so that their own faith will emerge, not just a faith from their parents, but their own experienced faith.  It is painful for mothers because the mistakes our children make, and the choices they make hurt us.  Often we think our children will just have the faith and spiritual maturity of an elder, when that is often impossible.  So it saddens us deeply.   Mothers should never give up on their children."
So, however, we read the book—and it can be read profitably with either definition of 'wayward' although Sharon meant the latter one—she reminds mothers that teens often act up out of pain.  That does not make our pain as mothers any less, but it does help us gain perspective.  She shares the difficulty of being cheerful as well as its importance, she talks about prayer, and she reminds us to focus on God.  Though times and culture may change, our faith must stay the same.
This is not a book on how to get your wayward children to come back, nor is it a book of hopeful Bible passages.  Rather it has been written to remind mothers not to give way to despair, and to encourage them in practical ways. 
As the mother of a wayward child myself, and knowing other mothers in similar situations, I am grateful to Sharon White.  She presents many aspects of our struggles and it is good to see another person's perspective.  Personally, however, I depend on others much more than Sharon writes about.  My husband and I find great comfort in our dear family, friends, and church community and also in the busy-ness of daily life.  When I am weary of praying, it is such a blessing to know that others continue!
May God bless our families and protect our children from their own proud naiveté!  May he forgive us all, and turn the wayward ones back to him!
To learn more about Sharon White and to order Mother's Faith, please visit The Legacy of Home.  This book is also available from Amazon.
This is yet another book in the 2013 52 Books in 52 Weeks Challenge and is also linked to Saturday Reviews, Encourage One Another Wednesday, Works For Me Wednesday , Raising Homemakers, Growing Home, Above Rubies, Wisdom Wednesday.
Disclosure: I was given a copy of Mother's Faith for the purposes of this review. As always, I am not compensated for this review, and I have expressed my honest opinions.