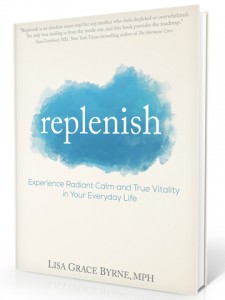 Lisa Byrne, author of Replenish, writes of herself and other mothers
We don't have the reserves of inner calm, we don't feel ready for our days with energy and vitality, and we don't know how to keep ourselves replenished while we're pouring out our lives for those we love the most. It's a paradox that leaves us feeling like we're wasting the most precious and amazing years of our motherhood journeys feeling depleted, scattered and flat…. 
When we try to do it all ourselves and be everything to everyone, we expend all our energy taking on everyone else's agenda and quickly lose sight of our own agendas. What's even more painful is that in order to be everything to everyone, we're often least to those who matter the most. I found the harder I tried to please everyone, the more often I was giving my family the worst of me.
So, what is a mother to do?  Lisa, a mother who has gone from depletion to being replenished herself, tries to answer this question in her book.  Dealing with 7 basic areas where we need to learn to care for ourselves, she likens each mom to a plastic ball in an empty swimming pool.  If you let in a trickle of water (self-care) from any one of the 7 hoses (basics self-care areas), you will eventually cause the ball to float.  It you let in a trickle from each one, it will happen even faster, obviously.   However, if you are over-stressed right now it is best to commit to just one new habit—such as getting enough sleep or learning to  be calm, rather than to overwhelm yourself by trying to do it all.
Lisa encourages mothers to
nourish the very basic requirements of a vibrant body, mood, mind, and spirit. And what you need at the most elemental level is calm (in your mind), control (in your thoughts), nourishment (for your body), rest (that's restorative), movement (that's joyful), quiet (for your spirit) and connection (that feels true).
These 7 topics are discussed in detail with many practical tips and with a very helpful summary at the end of each chapter.  Of course, even though you know you need to change something, you will not be able to change it without scheduling in the opportunities to do so.  That's why Lisa ends with the need to make space in your life to replenish yourself.
I learned a lot from this book.  Things I should do, things I need to teach my children, and why some of the things I do are so important for me:  things like naps and never having the radio on and being outside often.
If your life feels unbalanced and you seem unable to balance it, this book could help you.
Do note, however, that Replenish is not like the standard Christian guidance book.  On the positive side, Lisa gives more practical tips.  On the negative side, some would find her new age expressions and ideas more distressing than helpful.  Although the author feels connected to Jesus and to God, she never mentions her need for a Savior and seems convinced that she must and can replenish herself, partly by plugging into God's 'frequency'.
I think the author is trying to bridge the gap between Christianity and new age expressions of the ideas she discusses.  While I applaud her effort, I'm not comfortable with the results because the essence of the gospel is missing.  After all, only through the gospel can one truly be replenished.   Nonetheless, there are a lot of practical tips to learn from Lisa Byrne, as long as the reader is discerning.
This is yet another book in the 2013 52 Books in 52 Weeks Challenge and is also linked to Saturday Reviews.
Disclosure:  I received a review ebook copy of Replenish from Lisa Byrne.  As usual, no compensation was received, and my opinions are my own.