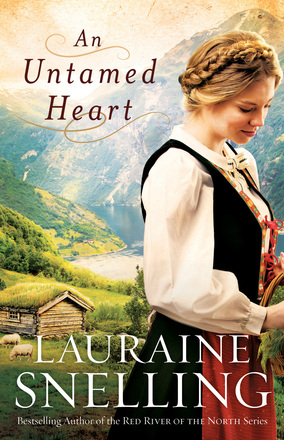 Although she wants to be a midwife, headstrong Ingeborg Strand, twenty years old in 1878, has always been happiest at the high mountain seter each summer, away from her mother's criticism.  There she and her younger siblings and relations grow livestock and make cheese for their families the whole glorious summer long.  Ingeborg teaches the younger ones, directs their devotions, and tries to help them grow up.
Nils Aarvidson, the unmotivated son of a Norwegian shipping magnate, promises his father he will do well in his studies in exchange for one last free summer in the mountains before closing himself up in an office.  But it is not to be.
One unexpected event follows another and both Nils and Ingeborg mature as their paths intersect up in the high mountains of Norway.   Then tragedy after tragedy takes place and Ingeborg is left confused in her faith.
Although I liked Ingeborg Strand and enjoyed sharing her life, I was disappointed in this book.  Conflicts are not resolved, the story does not hang together, there is little motivation for some of Ingeborg's actions, and the back cover of the book deals only with the last 10% of the book.  Undoubtedly, best-selling Lauraine Snelling is a good author; perhaps it is just difficult to write a satisfying prequel.  In any case, if you've enjoyed the rest of the Red River of the North series, you will probably enjoy An Untamed Heart; otherwise you will likely be dissatisfied.
This is yet another book in the in the 2013 52 Books in 52 Weeks Challenge, and is also linked to Saturday Reviews.
Disclosure: This book has been provided courtesy of Baker Publishing Group and Graf-Martin Communications, Inc. and is available at your favorite bookseller from Bethany House, a division of Baker Publishing Group.