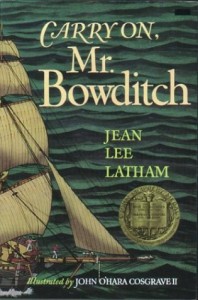 Once again, and probably for the last time, I read Carry On, Mr. Bowditch aloud to my children.  It's one of my top 50 children's books for many reasons, not the least of which is the brilliantly-written story.
Little Nat Bowditch is part of a seafaring family that has hit upon hard times, but he does not mind the poverty as long as he can go to school.  However, times get worse and worse and eventually, because there are too many mouths to feed, Nat is apprenticed to a chandlery (a ship supply store) for many long years.  No more school.
Does he despair?  Almost….
Read the book with your children to find out what he does instead.  It's so incredibly inspiring!  And then follow Nat's seafaring adventures as he travels the world, learning to be a sailor and visiting exotic ports.  He also discovers the fatal inadequacies of standard navigational tables, and so begins his great contribution to the world.
This thrilling story captivates my children each time I read it.  While I read it to them because it is great children's literature, it is also an inspiring introduction to one of America's greatest mathematicians.
Before the age of calculators and computers, Nathaniel Bowditch's mathematical genius allowed him to correct navigational tables' errors that had cost many lives.  He went on to write The American Practical Navigator, first published in 1802, eventually bought by the US government, and still, with extensive revisions,  widely used on US naval vessels.  It is available free online.
Every English-speaking child should read this book, and even teens and adults can enjoy it as a fictionalized biography.  It is delightful, exciting, inspiring, and opens new worlds for everyone, young and old.
Note:  Right at the beginning of the book, there is a small episode of children trying to engage in magic to improve their family's situation.  Also, sensitive younger children may find the book traumatic, because some of Nat's loved ones die at sea.
Although this is a children's book, its quality is such that I am including it in my 2013 52 Books in 52 Weeks Challenge and also linking it to Saturday Reviews, Trivium Tuesday, and Read Aloud Thursday.
Disclosure:  We have owned this book for years and I am not compensated for this review.