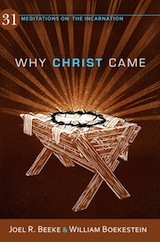 At this time of year the stores are filling up with gifts and decorations.  Now is a good time to ask ourselves what Christmas is all about.
Of course, we know Jesus came to save us.  But there's more, as Beeke and Boekestein show in their book Why Christ Came:  31 Meditations on the Incarnation. Although they only discuss 31 of the reasons He came, they list more—and each reason is important.    The authors point out in their preface that
Learning the reasons for Christ's advent will help us more deeply celebrate His birth, allow us to see more clearly how it is connected with the rest of His ministry, and help us understand its importance for our lives.
Well, what are some of these reasons?  Christ came to do the will of the Father, to save sinners, to bring peace, to bring a sword, to bring great joy, to bind up broken hearts….  Why Christ Came explains each of these briefly and applies it to our lives.  Each meditation begins with a Bible passage and then discusses the topic clearly and thoroughly.
None of the ideas are the authors' own, though.  In fact, there is hardly a paragraph without a Bible reference.   Because of that, this book can be used as a Bible study as well as a month's worth of meditations.   Why Christ Came also refers to some of the great historical confessions, the Belgic Confession, the Canons of Dort, the Heidelberg Catechism, and the Westminster Confessions, and as such it is a contemporary example of the beauty of the Reformed faith.
Why Christ Came is full of deep thoughts and biblical wisdom, but it is not necessarily an easy read.  The reader will have to stop and think—which makes sense because, after all, these are meditations worth pondering and discussing.
This is a wonderfully comforting and encouraging book, showing God's great love, His unimaginable goodness, and his incredible mercy to us, His people.  As we are surrounded by illness, sadness, and evil in its many disguises, it is so good to remember that Christ came 'to destroy the devil's work' and 'to call sinners to repentance'.
Is there space in our lives for the outward trappings of Christmas, the tree, the gifts, the food, the get-togethers?  Yes, of course, but never without remembering that we are celebrating our Lord Jesus who died for us to bring us to Himself.
Note:  This book would be much easier to read if the frequent Scripture references were either printed in enlarged margins or listed as footnotes.
This is yet another book in the in the 2013 52 Books in 52 Weeks Challenge and is also linked to Saturday Reviews  and Encourage One Another Wednesday.
Disclosure: I received a copy of this book from Cross Focused Reviews in order to review it.