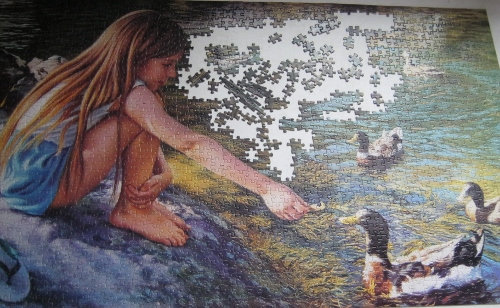 In our life this week…
Yesterday God gave us a special gift:  a spring-like day in the middle of winter.  It was blissful.  Now we're at the beginning of another minor snow storm, but it was great to have a foretaste of spring.
I was out several times this week and have discovered, once again, that staying home is best for us.  For all of us it just takes too long to catch up after having been away.  Some things are necessary—physiotherapy, grocery shopping, soccer, buying feed for the chickens, judo—but I'm thinking twice about other outings.
Early mornings are my writing and thinking time, and sometimes I'm tempted to let that stretch too long.  I think that one of the most effective changes I can make in our home this year is to be diligent to leave the computer at 7 AM, no matter how tempted I am to write just a few more sentences.  When I'm self-disciplined, everyone else stays on track too.  So now I've set my phone to alert me at 6:55, giving me 5 minutes to wrap up what I'm doing before the nasty 7AM alarm sounds.  On Sundays I don't write and we're in a rush to get to church, and on Saturdays I've given myself an extra half hour.
In our homeschool …
The girls have worked hard.  We're managing to be quite diligent and it is paying off.  Learning is always work, sometimes hard work, but that is a good thing.  Planning each week's learning in a realistic way is also a difficult job, but when it is done well everyone benefits.
We have finished The Kids Can Press French and English Phrase Book again, probably for the 6th time.  We've been studying a two-page spread each week, reviewing the phrases and enjoying the delightful pictures.  This is one of my favorite homeschooling books, and I'm sad to put it away again.
Miss 11 is finally catching on to the basics of grammar, and we're almost at the end of Daily Grams, which we use as an introduction to formal grammar.  Perfect timing.  In a few weeks we'll transition to Rod and Staff Grammar Level 4 but we'll probably continue studying the next book of Daily Grams once a week as well.
Miss 13 has finished Key to Geometry.  Next is a quick challenge of the first four chapters of Singapore's New Elementary Math 1, a brief review of the comprehensive math review she did with the online program Math Score last fall (link to old review; new review coming soon).
Miss 16, who is very artistic, has begun to make an illuminated manuscript page of Psalm 1 like the monks used to do.  Even with only the calligraphy, it is so beautiful!  In other good news, after going very slowly in French for a long time, suddenly the chapters seem quite easy and we're moving quickly.  Chemistry, too, is becoming easier.  What a blessing!
In our gluten free kitchen… Tomato soup.  Scrumptious oatmeal raisin cookies.  Roast.  Squash.  Quiche.  Salad.  Three varieties of pizza. Hamburgers on corn pancakes.  Brownies.  Oriental crunch.  Oatmeal.  Bread.  Scrambled eggs with ham and red pepper.  Milk nog.  Warm tea.  Stir-fried vegetables.  Curried oven-fried chicken. Kiwis. Carrot pineapple muffins.  Apple pancakes. Ham and broccoli scrambled eggs.
Some of my favorite things were…
Watching the girls' success in so many areas of their schoolwork
Reading aloud
Listening to Miss 11 enjoy her recorder
Enjoying spring weather for a day
Eating good food
Playing Wordament, Yahtzee, and Rummikub
Attending a lecture about the history of science
Reading Tricia Goyer's book, Balanced, which is more like a devotional than anything else.  It's my favorite book so far this year.  You'll see why when you read her quotation at the end of this post.
Questions/thoughts I have…   As Laura Ingalls Wilder wrote in one of her books, "These are the happy golden years."  Yes.  They are.  And I need to be mindful to really enjoy them with my family.
Fitness… I've been struggling with a cold or something, never quite being really sick but not feeling well either.  So my average daily steps are well below 10,000 and even my physio exercises have been ignored again.
Some of the things I've been working on…
Homeschooling
Everyday homemaking tasks and the never-ending task of streamlining everything
Reading about the history of science
Deciding on realistic goals for 2014
A 1500 piece puzzle we started almost two months ago
We're watching… Les Chateaux de Loire.  It's hard to imagine that there are so many castles in the world, let alone along one river!  Francis 1, the French king at the time of Da Vinci, Calvin, and Jacques Cartier, lived in several of these castles.  We also watched N is a Number, a movie about the fascinating mathematician Erdos which would have been marvellous except that he expressed, in a few sentences, a horrible and very sad concept of God.  Miss 16 watched Les Miserables, and Miss 13 enjoyed a few episodes of The Three Stooges.
I'm reading… Daniel. I finished Niels Bohr, More Things in Heaven and Earth, and Lewis's The Great Divorce (for Omnibus V). Currently I'm writing reviews and summaries of the first two and, because they are somewhat of general interest, I may post the reviews here rather than on GoodReads.  I'm also reading Total Truth (with Mr. 18), Quantum Generations, Ten Days Without,  Balanced,  Say Goodbye to Survival Mode, and The 40 Most Influential Christians.
Reading Aloud… We're reading Ecclesiastes, Volume 4 of In de Zoete Suikerbol, And Tomorrow the Stars, and Young People's History of the Church.  Miss 11 has taken to knitting while I read aloud, and Miss 13 is usually finishing her meal.
When my husband is home for meals we read Philippians.
I'm grateful for …. Garlic, vitamin C, books, computers, games, and floors.  Yes, floors.  Yesterday one of the girls suggested that we should be grateful them.  What a novel concept, but so eye-opening!  Yes, we should give thanks for floors, as well as walls, roofs, insulation, and at least a million other 'everyday' things that God so graciously gives us besides the incredible gift of salvation.
Quote or link to share….  "Vision is knowing where you want to head and having an idea of how to get there. Prayerful vision is asking God to show you what He sees since He has a much higher, better view than we do, and adjusting your heart to His desires for your work, your family, and His world."  From Tricia Goyer's beautiful book Balanced.
This post is linked to Kris's Weekly Wrap Up .