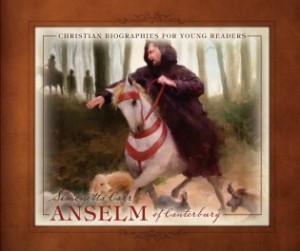 Anselm, born just south of the Alps in 1033, was a studious lad who loved the Lord.  He wanted to become a monk, but his father had other plans for him.  Even when his youthful prayers to become ill were answered, the abbot refused to take him against his father's wishes.
Eventually Anselm left home, travelling north to study.  Although he returned to Italy twice, his greatest influence was in England where he had to be forced to accept William II's appointment as Archbishop of Canterbury.  He associated with the great men and women of his age—kings, nobility, and popes—but his goal was always to tell the truth about God very carefully.
Why is Anselm important?  As a devout scholar, he contributed greatly to our understanding of Christ's nature.  Most Christians are at least somewhat familiar with his statement:
"If only God can make this satisfaction [for sin] and only a man ought to make it, it is necessary that a God-man make it."
He was also one of the most brilliant medieval scholars.  Many people know this quotation about learning:  "I don't try to understand so that I may believe, but I believe so that I may understand."
In Anselm of Canterbury, Simonetta Carr has written a sweeping narrative of the archbishop's life. Because of Matt Abraxas's luminous illustrations and her own well-researched storytelling, this beautiful book for children is also a fascinating introduction to Anselm for teens and adults.
Anselm of Canterbury is my favorite of the Christian Biographies for Young Readers.  It is more peaceful than many of the other books, with less persecution and fewer violent struggles.  It also mentions many intriguing people:  Anselm himself; King William II and King Henry I of England; Matilda, Countess of Canossa; Lanfranc, a brilliant scholar who taught using discussion instead of only lectures; and Eadmer, Anselm's friend and helper.
This Eadmer, who had accompanied Anselm for 30 years, wrote down everything he could about him.  When Anselm asked him to destroy his book, Eadmer obeyed… but only after he copied it all!  This is the sort of fascinating detail that Anselm of Canterbury is full of, both in the book itself and in an appendix entitled "Did You Know?"  Besides a timeline, there is also a small selection of Anselm's own words.
Like all of Simonetta Carr's biographies for children, Anselm of Canterbury is suitable for a wider age range than ages 7-12 listed on the book.  As a lively introduction, it is eminently suitable for teens as well as adults.  I highly recommend it.
Anselm of Canterbury is one of the books I will encouraged our local public library to buy .  It also deserves a place in Christian homes, homeschools, schools, and church libraries.
Other titles in Simonetta Carr's Christian Biographies for Young Readers series include:  Athanasius, Augustine of Hippo, Lady Jane Grey, and John Calvin.
Disclosure: I received this book from Simonetta Carr for the purpose of this review.  As usual, I am not compensated for my review.
This review is linked to Trivium Tuesdays, Booknificent Thursdays, and Saturday Review of Books.