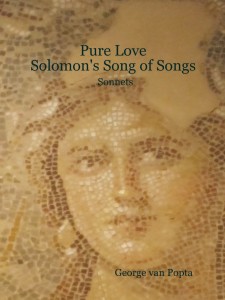 One of the world's greatest love poems, Solomon's Song of Songs, celebrates the love between a man and a woman in moving, intimate terms.  It pictures longing, love, and absolute fascination with each other.
In Pure Love:  Solomon's Song of Songs, George van Popta has captured both the story and its emotions in sonnet form.  Not only has he translated the Song into a format more understandable to the modern western mind, but he has also carefully clarified who is speaking when, something that can be difficult to follow when reading the original.  Although the sonnets are emotionally intense, they are somewhat less erotic than Solomon's version which Jewish tradition apparently restricted to those 30 years and older.
Each of the 24 sonnets is illustrated with a related work of art, from Waterhouse and Godward to Velasquez and Rossetti.  These beautiful pictures are, unfortunately, in black and white.   Perhaps someday Pure Love will be republished in color, but in the meantime it is possible to find the illustrations online.
The sonnets, together with the illustrations, are a lavish depiction of love.  Images tumble over each other and are framed by declarations of joy and commitment.  This is not a tame book, but it is a true one.
Of course, we should never forget that human marriage is meant to reflect the relationship between Christ and the church.  This gospel awareness gives the sonnets another rich layer of meaning that enhances the love of the man and the woman.
Marriage is an amazing gift from God, and rejoicing with the Song of Songs is a lovely way to celebrate.  Thus it is fitting that the author dedicated this beautiful little book of sonnets to his wife Dora on their 35th anniversary.
May this book of love poetry encourage many couples to rejoice in their marriage.  I highly recommend it.
—
Note:  The entire book, with colored illustrations, is now available online at the website Pure Love: 24 Sonnets.
—
As a reviewer for homeschooling moms, I found myself wondering if Pure Love should find a place in homeschools.  Although it could, perhaps, be used with teens to study Bible, marriage, or poetry, its best use in a homeschool family would be for the parents to enjoy it.
This is yet another book in the in the 2014 52 Books in 52 Weeks Challenge, and will also be linked to Saturday Reviews,  Works For Me Wednesday , Wifey Wednesday, and Raising Homemakers.
Disclosure I received a review copy of this book in order to share my honest opinions.