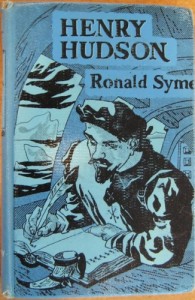 What a moving biography Syme has written of the tragic explorer Henry Hudson!  This story for middle school children, the best I have read about Hudson, is unusual for this age range.  Very few children's biographies attempt to present a person's complex character in the way Syme did in this book.  For that reason, Henry Hudson is a much deeper book than Syme's Cartier, Finder of the Saint Lawrence, (link is to my review) and is more appealing to older readers.
Hudson, an Englishman, dreamed about finding an Arctic passage from the Atlantic to the Pacific.  In the early 17th century, maps of northern North America and Russia were very vague, allowing for such dreams, and Hudson was able to convince various sponsors to support him.  Sailing with his son John, he first looked for a passage north of Russia but was thwarted by a Juet, a grumbling trouble maker, and the cold.  He explored North America's eastern shore and discovered the Hudson River, but Juet caused trouble with the Indians.  Finally, after many years, he had the opportunity to look for a northwest passage as he had always wished.  Instead of the passage, he found Hudson's Bay and discovered just how evil Juet and others were.…
Not only do we learn about Hudson's travels and discoveries, but also about the great difficulty he had hiring crews for voyages into the frigid, terrifying North.  That was the reason he continued to hire Juet, but it was his kindness that had allowed Juet and others to escape accepted shipboard justice and to have the opportunity for the ultimate crime.  However, as is ideal in a biography for children, evil was suitably punished.
When, many years ago, I learned about Hudson, his tragic end haunted me.  It seemed so monstrously unjust.  However, by describing what happened to his murderers, Syme gives young children closure by showing that, in this case, evil was punished.  Of course, we adults know that is not always so in this life–although it is eventually—but for children immediate justice can be very important.
Even though I have stressed this aspect of the book, Syme wrote it as an adventure-filled biography of one of the great explorers and treated all these issues matter-of-factly.  Henry Hudson is an exciting, well-written story that will add detail and depth to any study of explorers or of North America.  If you can find this 1955 book second hand, it is worth snapping up.
This is one of the books we use in our multi-year, literature-based Canadian History course.
Disclosure:  We found this book at a used book sale and I am not compensated for writing this review.
This post is linked to Finishing Strong , Trivium Tuesdays, Read Aloud Thursday, and Booknificent Thursdays.