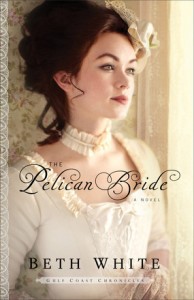 It is 1704 and Genevieve Gaillain, fleeing horrors in France, steps out of the frigate Pelican at the new Louisiana colony and straight into the arms of Tristan Lanier.  Actually, she steps into water over her head and Tristan, a widower, rescues her from drowning by carrying her to shore like a sack of potatoes.  Then he tells her he is not one of the men hoping to find a bride in the shipload of women.
Genevieve does not mind; she is too concerned about her sick little sister Aimee.  Thankfully, beautiful Aimee recovers her health, though she seems to have lost her common sense.  The sisters are soon caught up in the community of French colonists and Genevieve even makes friends with the natives, but neither of them can settle on a man to marry.
And the men in the colony?  Well, they have their own lives, full of unanswered questions and intrigue.  Sometimes that makes Genevieve, a Huguenot fleeing persecution in France, wonder if she has jumped from the frying pan into the fire.…
In The Pelican Bride, author Beth White's multilayered plot is both exciting and enjoyable.  Not all the loose threads are tied up at the end, but that makes sense since there will be more books in this series.  The characters themselves are strong enough to last through many books, and I am looking forward to seeing what happens to the sisters, their faith, and their new friends and relations.
This is yet another book in the in the 2013 52 Books in 52 Weeks Challenge and is also linked to Saturday Reviews and Booknificent Thursdays.
Disclosure: This book has been provided courtesy of Baker Publishing Group and Graf-Martin Communications, Inc. and is available at your favorite bookseller from Revell, a division of Baker Publishing Group.